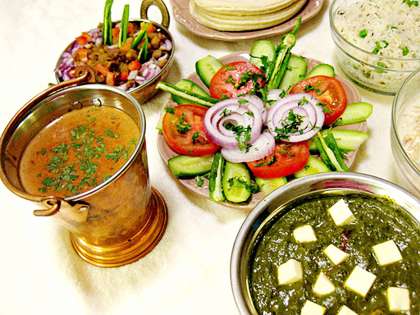 Makke Di Roti, Te Sarson Ka Saag – Punjabion Da Khana hota hai Lajawaab. This is truly said, that If you really want to taste the true flavors of India and fascinating Indian food, then do visit to Punjab in North State of India.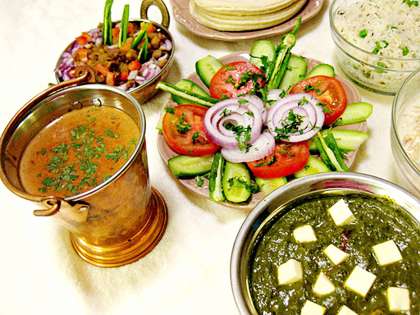 Punjab is very popular for its rich food, delicious gravy, mouth-watering parathas and the great hospitality. Chole Bhature, Dal makhani, matar paneer, aloo paratha, hariyali chicken, aloo amritsari, lassi, etc are some of the famous Punjabi dishes. Their preparation and cooking style are unique and authentic, and they try to put a real flavor in food by using melted butter or ghee.
You can see a wide range of food and ultimate dishes in Punjab. Most of the dishes are made with a perfection of restaurant style food by using large amounts of ghee (clarified butter) and with liberal amounts of butter and cream.
In Punjab region, there are different preferences and choices of food among people. People in the area of Lahore and Amritsar likes stuffed parathas and dairy products and these particular areas are well known for best quality of milk products.
Sarson ka saag and makki di roti are the exclusive dishes of Punjab. They put good amount of masala in their food that contains ginger, garlic and onion. Tandoori food such as kebabs, tandoori rotis, etc along with variety of pakoras and recipes made with paneer are exclusively derived from the Punjab.
Chicken tikka is one of the most popular dish in Punjabi cuisine and some of their best and daily breakfast dishes are Paratha, Halwa poori, Lassi, Falooda, etc.
The non-vegetarians can enjoy a wide range of food in every corner of Punajab. They specialise in making Tandoori Chicken, Butter Chicken, Chicken Tikka, Mutton Rogan Josh, Bhuna Gosht, Kadhai Gosht, Raan Gosht, Dal Gosht, Saag Gosht, Nihari Gosht, Rara Gosht, Paye da Shorba and many more.
Some special fish dishes like Amritsari Fish, Tandoori Fish, Fish Tikka, Fish Pakora can be seen only in Punjab. You can have a great choice to choose among their huge variety of kebabs between lamb, chicken and beef chunks.
People, who are pure vegetarians can be also priviledged with a delicious Punjabi food. Some of the famous vegetarian Punjabi dishes are sarson da saag (a dish prepared from green mustard leaves) and with makki di roti, a bread made by corn flour, Mushroom and bean sabzi, Dal makhani (lentils with cream and butter), rajma (red kidney bean) and rice  rongi (Black-eyed peas), choley (eaten with naan or kulcha), aloo (eaten with puri, Kadhi Pakora (traditional curry with pakoras) and rice.
Their special Kadhi is made with gram flour, curd and buttermilk. Fried lumps (pakoras) of gramflour with salt and chillies are also added. Enjoy Shahi Paneer, Khoya Paneer, Phirni, Jalebi, Malpua, Sheer korma and Snacks like pakoras which is eaten with green chutney also called as pudine ki chutney, samosas and many more such delights.
Bread preparations in Punjab
Punjabi breads are both flat (unleavened) breads as well as raised breads. The breads may be made of different types of flour and can be made in various ways:
It can be Baked in the tandoor like naan, Tandoori roti, Kulcha, or Lachha Paratha
Dry baked on the Tava (Indian griddle) like Phulka or Chapati, jowar ki roti, baajre ki roti and Makki ki roti (these are also smeared with white butter)
Shallow fried like Paratha, Keema Paratha, Potato or Radish Paratha
Deep fried like Puri and Bhatoora (a fermented dough)
Naan is also very popular. It is served with most of the dishes in Indian restaurants.
A catching fragrance of pure ghee and mouth-watering tandoori dishes can be imagined all over, while hanging around in Punjab. Here are some of the "flavors of Punjab" to feel the same. Hopefully you will like them.
Punjabi Veg Recipes
Punjabi Non-Veg Recipes