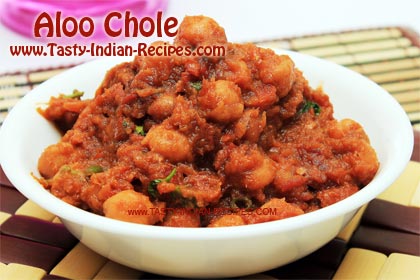 Aloo chole is the delicious combination of boiled chickpeas and fried potatoes, which are cooked in the aromatic masala of onion and tomatoes and then flavored with variety of spices.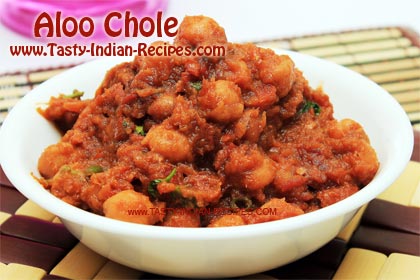 Preparation time: 10 minutes
Cooking time: 20 minutes
Servings: 4
Ingredients:
1 cup chole (chickpeas, kabuli chana)
2 potatoes (peeled and chopped in 1 inch size)
4-5 green chillies chopped
1 tsp ginger paste
1 tsp garlic paste
1 onion thinly chopped
4 tomatoes pureed
Few curry leaves
1 tsp Pomegranate seeds (anardana)
1/2 tsp cumin seeds
1/2 tsp red chilli powder
1/2 tsp turmeric powder
1/2 tsp dry mango powder
1 tsp garam masala powder
Vegetable oil
Fresh cilantro
Salt to taste
How to make Aloo Chole:
Wash the chole in normal running water and soak them overnight.
Next day pressure cook the chole with 4 cups of water and little bit of salt.
Drain the boiled chole and reserve its water aside.
Heat sufficient oil in a pan and deep fry the pieces of potatoes.
Place the fried potatoes in oil absorbent paper.
Heat the oil in a pan, add  curry leaves and cumin seeds.
Saute for few seconds and add green chillies, ginger and garlic.
Saute until the raw flavor goes away.
Add the chopped onion. Fry until onion is soft.
Add the boiled chole and fried potatoes.
Add the puree of tomatoes along with salt, red chilli powder and turmeric powder.
Mix well and cover the pan. Leave to cook for about 5-6 minutes on low heat.
Add anardana, dry mango powder and garam masala powder.
Add the reserved water in which chole were boiled.
Cook for 2-3 more minutes.
Garnish with lots of fresh cilantro.
Serve hot with roti or rice.
Chef Tips:
You can boil the potatoes instead of frying, just need to mix with the chole.
Add little bit of salt at the time of soaking the chole overnight in the water, in this way they will become soft.