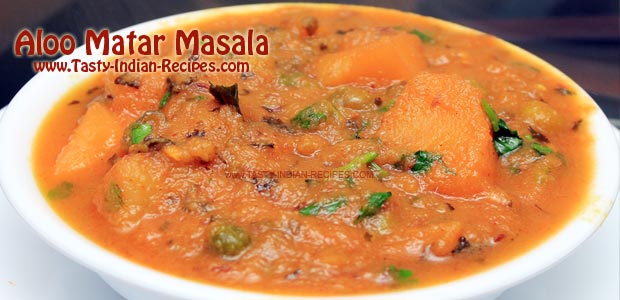 Aloo Matar Masala is a mouth melting combination of green peas and potatoes. Here fresh green peas and potatoes are cooked in Indian bhuna masala and served with Hot Indian Chapati or Puri. It is one of the tastiest recipes of North Indian Cuisine. This dish can be served a main dish with the roti or chapati, or as a side dish with dal and rice.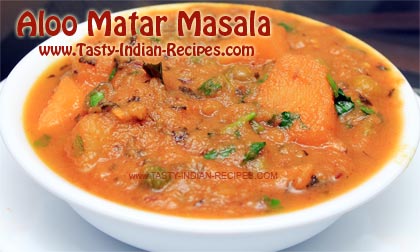 Preparation time: 7 minutes
Cooking time: 20 minutes
Servings: 4
Ingredients required for making Aloo Matar Masala Recipe:
2 cups fresh green peas (mattar)
2 medium size potatoes chopped in medium pieces
2 onions thinly chopped
4 tomatoes thinly chopped
4 cloves garlic chopped
1/2 inch ginger minced
5-6 green chillies chopped
1/2 tsp cumin seeds
1/2 tsp mustard seeds
4-5 curry leaves
1/2 tsp red chilli powder
1/2 tsp turmeric powder
1-1/2 tsp coriander powder
1/2 tsp garam masala powder
Vegetable oil
Fresh coriander leaves chopped
Salt to taste
How to make Aloo Matar Masala Recipe:
Heat the pan and add sufficient oil.
Deep fry the pieces of potatoes and keep aside.
Now in a kadhai, heat 2 tsp of oil.
As oil heats, then add seeds and curry leaves.
Wait for few cracklings of seeds.
Now add chopped onion and cook for few seconds.
Add ginger, garlic and green chillies.
Cook until onion turns into light brown color.
Add chopped tomatoes, salt, red chilli powder and turmeric powder.
Cook for 3-4 minutes on low flame.
You will observe the oil started touching the corners of pan.
Now you may add green peas and half cup of water.
Cover the pan and leave to cook on low flame until peas become tender.
After that add fried potatoes and remaining spices.
Cook for 2-3 more minutes.
Garnish with fresh coriander leaves and serve hot with Indian roti or plain naan.
Chef Tips:
For making this recipe more delicious, do not high the heat at all, leave to cook on low flame only. In this way you will be able to make delicious bhuna masala.
I have used garam masala powder, but if you want, you can use whole garam masala as well.
Do not add more water, the recipe should be in medium thick consistency only.