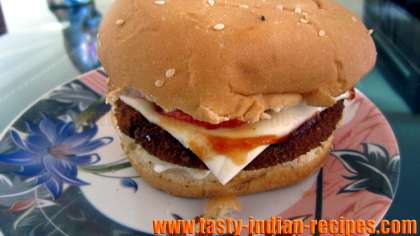 Vegetable Burger is one of the most popular fast food recipe, loved and adored by kids and elders. This homemade burger is truly filled with lots of fresh vegetables and cheese. A simple and kid's favorite snaking or tiffin option gives a great taste buds.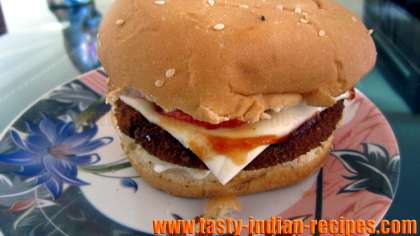 Prep time:
Cook time:
Total time:
Yield: 6 servings
Ingredients:
6 burger buns
4 small potatoes (boiled and cut in small cubes)
1 carrot (boiled and finely chopped)
50 g – french beans (boiled and finely chopped)
4 tbsp green peas (boiled)
2 tsp  red chilli powder
1/2 tsp mango powder
1 tbsp  ginger garlic paste
1/2 tsp coriander powder
Fresh finely chopped coriander leaves
Salt to taste
6 bread slices
2 tbsp corn flour
Oil to deep fry
For Topping of burger you will require:
1/2 cup unsalted butter
1 onion (peeled and cut into thin rings)
1 tomato (cut into thin rounds)
1/2 cup processed grated cheese
How to make Vegetable and Cheese Burger :
Drain out the excess water from the boiled vegetables and set aside to cool completely.
Grind the bread slices and make a fine bread crumb.
Take a big bowl and mix the boiled vegetables, bread crumb, ginger-garlic paste, corn flour, salt and spices.
Add good amount of chopped coriander and mix very well.
Make small, round medium sized patties.
Heat good amount of oil in a frying pan
Shallow fry the patties on a medium flame till golden on both sides.
Let's proceed to serve this delicious burger, very first, cut the buns into 2 halves.
Apply butter on the lower half of each bun, Place an onion ring and a vegetable pattie on it.
Top it with a tomato slice and some grated cheese.
Place the other half of the bun and brush it with a little butter.
Place the bun in a pre-heated oven at 140 degree C for 4 to 5 minutes.
Repeat the same procedure for making remaining burgers.
Serve them with potato chips and tomato ketchup.