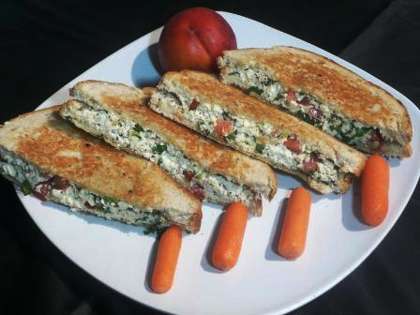 Paneer Sandwiches are made by stuffing the unique mixture of paneer (Indian cottage cheese) into the bread slices and spices that includes Panch Phoran. Panch Phoran is a unique Bengali (east Indian) spice mix that is used to season many dishes. It is a combination of five spices i.e fenugreek seed, nigella seed, cumin seed, black mustard seed and fennel seed. When this spice mix is used in any dish, it really spreads a beautiful aroma all over.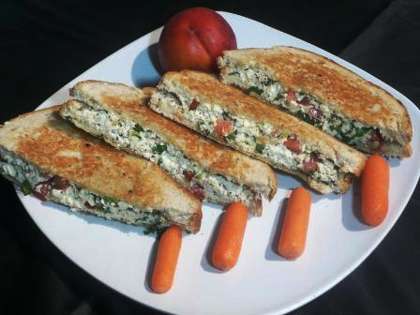 Preparation time: 5 minutes
Cooking time: 10-12 minutes
Servings: 6-8
Ingredients:
500 gm fresh paneer (Indian cottage cheese)
75 gm Panch Phoran
8 big bread slices (white or brown)
1 cup softened unsalted butter
1/2 tsp red chilli powder
1/4 tsp dry mango powder
A pinch of black salt
A pinch of ground black pepper
How to make Paneer Sandwiches:
Melt the butter in a non-stick pan.
Cut the paneer into some slices and saute in the melted butter by adding salt and spices.
Cook over moderate heat for few minutes.
Now carefully stuff the prepared paneer slices in between the bread slices.
Preheat the oven at 350 degrees F and roast the prepared paneer sandwiches for few minutes until little browned.
You can toast them on hot griddle as well.