Onion Pakora are crispy Onion Fritters made with Sliced Onions, Besan (Gram Flour) and Spices. Onion Pakora is very famous Indian Street Food and it is very popular among Indian people. Onion Pakora  Recipe is one of the most easiest recipe and it takes very little time to make these Pakora's. Onion Fritters can be made in 10 minutes, perfect, If your children are hungry and want some quick crunchy meal.  In India, Pakora's are usually served with some fried salted green chilies along with green chutney or sweet chutney.
Onion Pakora is also known as Kanda Bhaji (where Kanda means onions & bhaji means fritters). It is also a popular tea time snack and tastes great with chutney or ketchup. Onion Pakoda are my all time favorite snack and I like to enjoy them with my Evening Tea Time, hence this whole combo is also served with Indian chai.
Onion pakoras or onion fritters is a popular Indian street food and In Mumbai, all the vendors are making it in their own style. They are extremely tasty and mouth melting only when just taken out from hot oil. Onion Pakora's (Kandha Bhajiya) taste best when Pakora is Crispy and Crunchy.  It will take you some tries to get perfection, proper water consistency in your batter and medium oil temperature is the key to produce Crispy Pakoras.
Proper water consistency in your batter and medium oil temperature is the key to produce Crispy Pakoras.
Onion pakoras also tastes good with bread and can be sandwiched between bread slices with sliced veggies and some sauces. Kids generally like them in Sandwich style.
If you want to enjoy a fried version of these hot and fresh onion pakode, then you must try them in your home. Make sure to serve them hot and fresh, because delay in serving onion pakora really spoils its taste and crunchiness.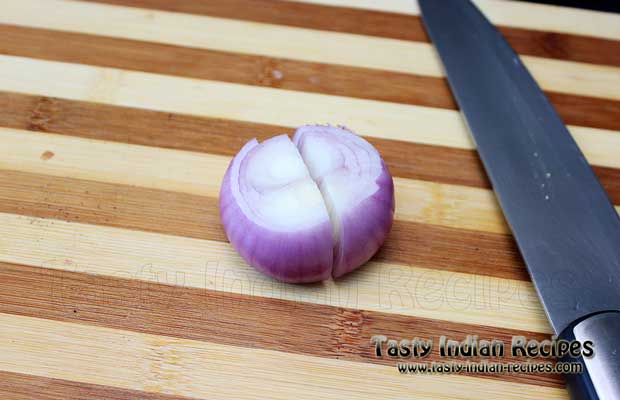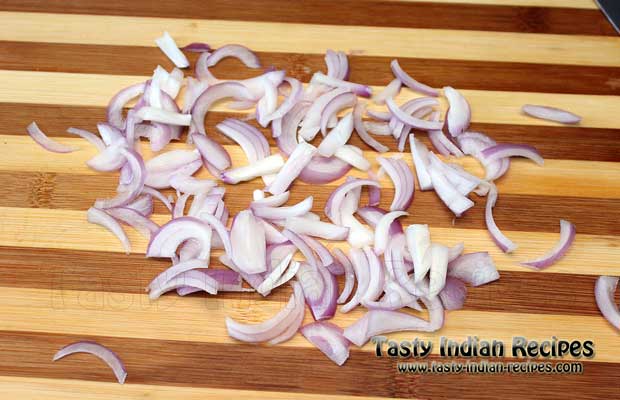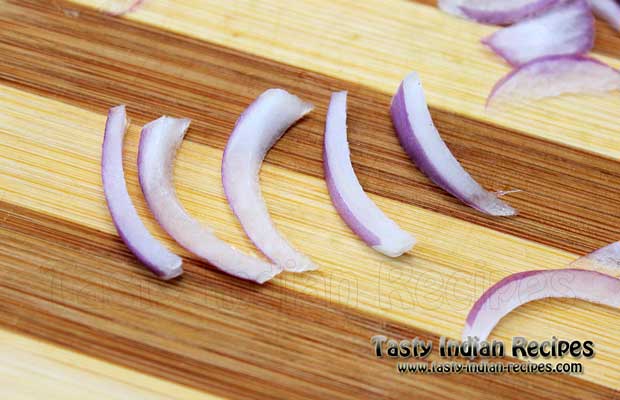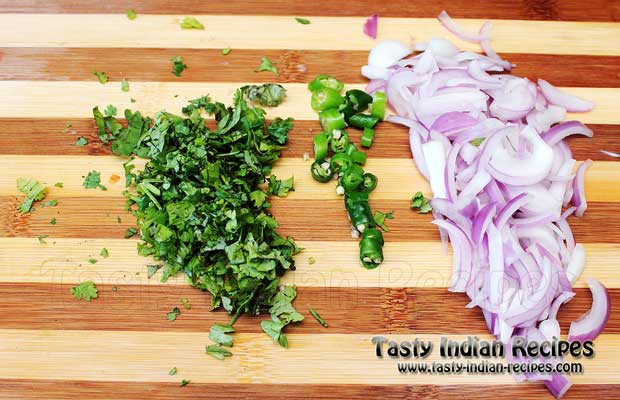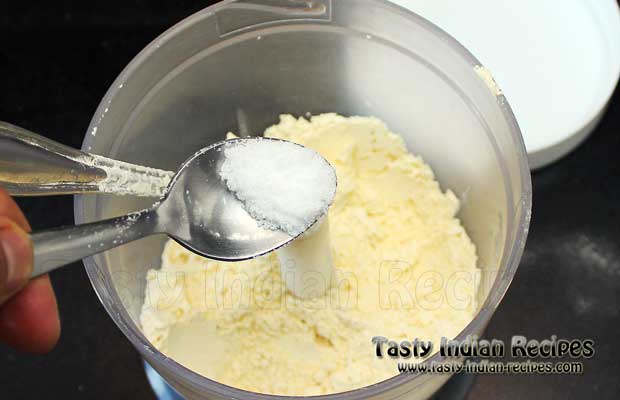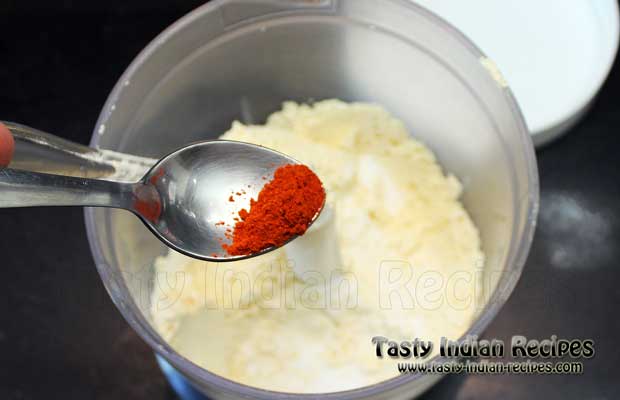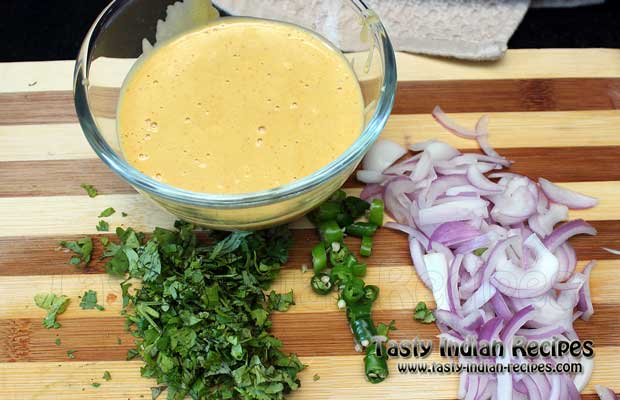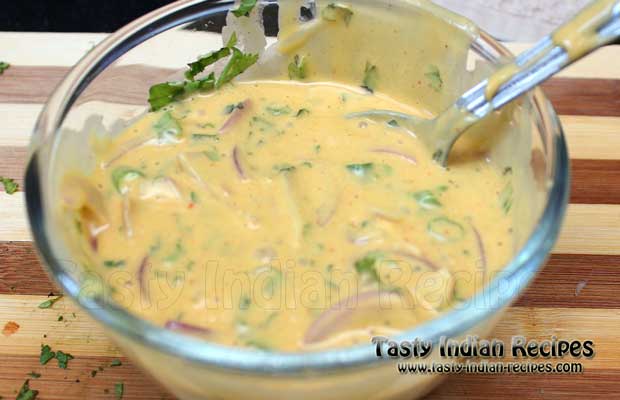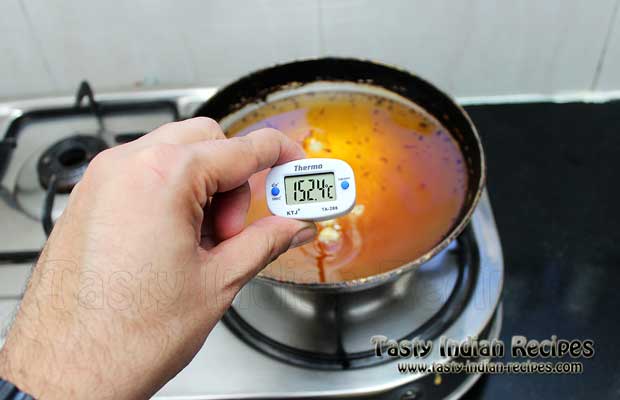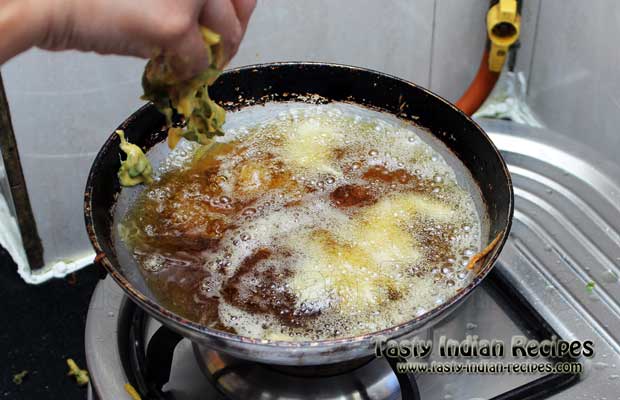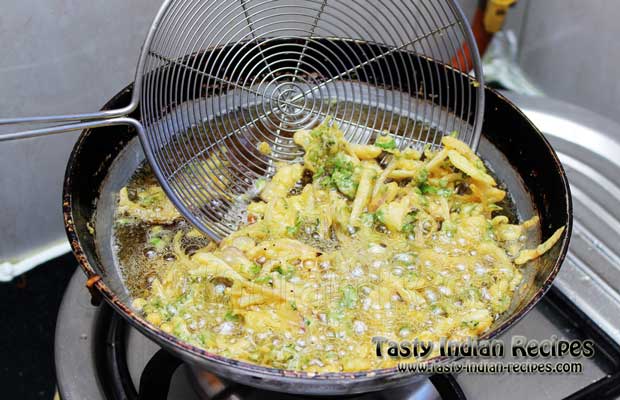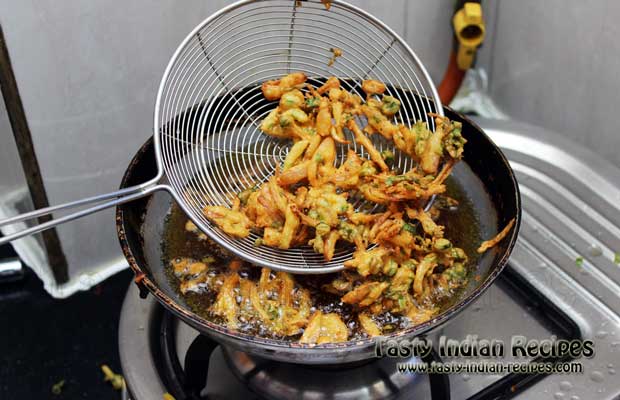 How to make Onion Pakora Recipe:
Onion Pakora / Kanda Bhaji is one of the most famous Indian Street Food. Onion Pakora Recipe can be made in 10 minutes with Onion, Besan and Coriander.
Ingredients
2 onions
1 cup besan (Bengal Gram Flour/ Gram flour/ Kadalai mavu)
4 green Chillies
1/2 teaspoon red chilli powder
1/2 teaspoon Baking Soda
4 teaspoon coriander
Salt to taste
Oil for deep frying
Instructions
Cut onion in Julian style (long thin strips) like shown in image. Fine chop coriander and cut some chilies.
Take a bowl and put besan, salt, red chilli powder and baking soda. Add some water and mix them together till batter is thin and have a smooth consistency. Make sure it is thin and not thick. You can also use chopper / mixer for blending batter. Once batter is prepared add green Chilies, coriander and lots of onion in it and mix well.
Heat oil in a frying pan and wait till it reaches to about 150 C temperature (medium hot). You may drop some Basen in to see if its hot enough. Once oil is ready, take lots of batter mixture in your hand and spread it in oil pan keeping some distance from hot oil. Fry onion Pakora on medium heat till golden brown. You may increase the flame after 1 minute to cook them faster. Take out onion Pakora's on tissue paper to drain excess oil. Your Onion Pakora's are now ready, serve them hot with green coriander chutney or your favorite sauce.
Notes
While cooking Pakora's make sure oil is not too hot otherwise it will burn the flour. You may start with low flame and then up the flame after 1 minute to make them crispy. Make sure you put more onion and less Besan Flour otherwise they will not taste like onion Pakora.
Tasty Indian Recipes
Server your pakora's with Green Coriander Chutney or sauce of your choice.