Vegetable Grill Sandwich Recipe is Mumbai's Special Street Sandwich and probably a perfect snack dish to make up the mood. After working very hard throughout the day, sometimes we want to eat something very delicious and non-compromising food. Vegetable Grilled Sandwich is really that recipe, which can lift you up and makes you very happy.
It's one of my favorite Snack dishes and sometimes easy to pack for my kids School Tiffin as well. While you can stuff anything into it, typically it is piled up with several healthy vegetables and the tasty mixture of boiled potatoes between three pieces of bread slices.
It's not every day that we have the time to prepare a really delicious and over-the-top melty Sandwiches for the evening snacks. Sometimes when you have an extra few minutes then magic can be done with some relatively basic sandwich ingredients as well.
Though all the Salad ingredients which I have used in this sandwich are generally available all the time in our fridge and if boiled potatoes are also available then you can save your some time. In fact you can make the mixture of boiled potatoes with leftover potatoes as well. So nothing will be difficult for you and you can start making it at any time when you are hungry.
You really don't need any fancy equipment or appliances to tackle this recipe. Just need to do it properly. So without further delay, let's see how to make everybody's favorite Vegetable Grilled Sandwich to suit the preferences and proclivities for all the vegetarians. Today I' m using big bread slices, but if you get normal bread slices, then too straight forward go ahead with it.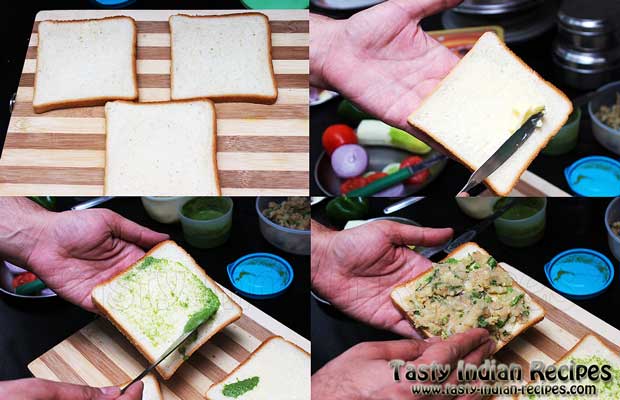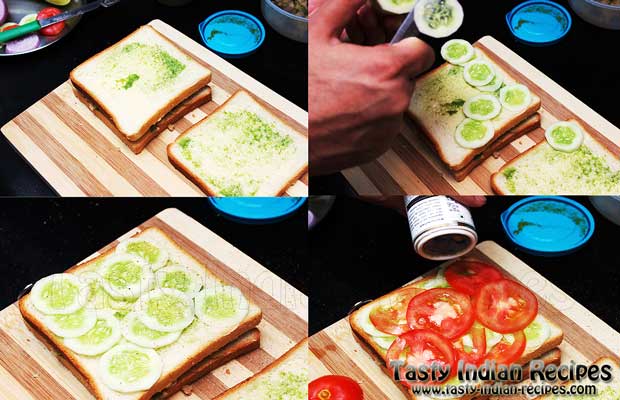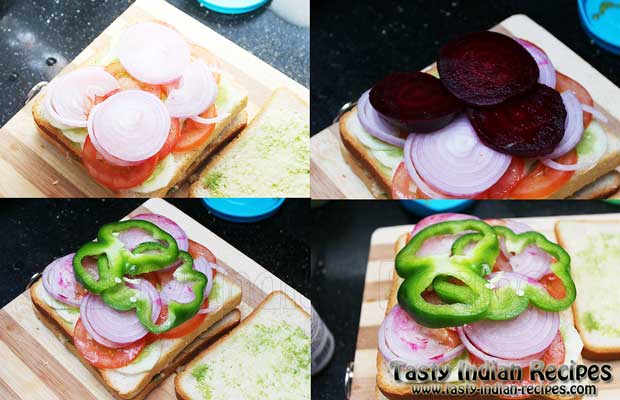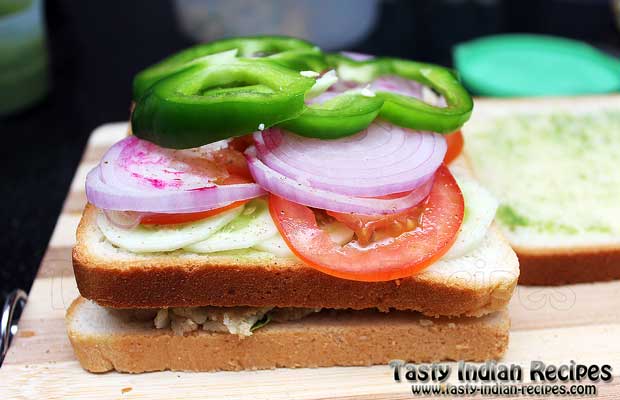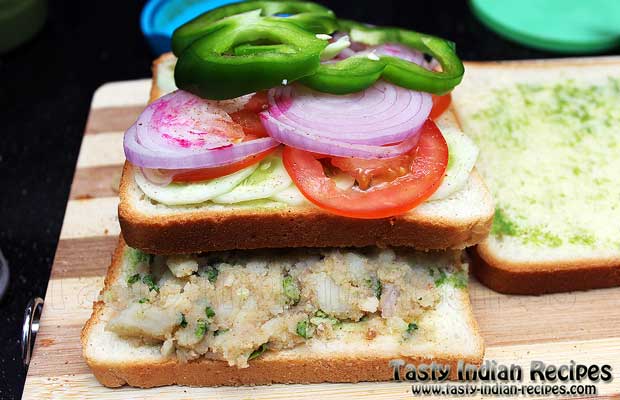 How to make Vegetable Grill Sandwich Recipe:
Vegetable Grill Sandwich Recipe
Vegetable Grill Sandwich Recipe is Mumbai's famous Street Sandwich, stuffed with the delicious mixture of Boiled Potatoes and Healthy Vegetables between three pieces of Bread Slices.
Ingredients
6 big size bread slices (white or brown)
1 medium onion (cut into thin round slices)
1 medium cucumber (peeled and cut into thin round slices)
1 medium green bell pepper (capsicum) (cut into thin rings)
2 medium tomatoes (cut into thin round slices)
1 boiled beet root (cut into thin round slices)
4 boiled potatoes
1 tablespoon onion, thinly chopped
2 tablespoon capsicum, thinly chopped
2 green chilies, finely chopped
1/2 teaspoon red chili powder
1/4 teaspoon garam masala powder
1 tablespoon coriander leaves, finely chopped
1 teaspoon chaat masala
2 teaspoon Coriander chutney
2 teaspoon unsalted butter
Salt to taste
Instructions
Take all the bread slices and apply little butter on them. (Tip: you can trim the edges of bread slices). Apply some green chutney and spread evenly on all bread slices.
Mash the boiled potatoes in a bowl and add 1 tbsp thinly chopped onion, 2 tbsp chopped capsicum, 2 fine chopped green chilies, 1/2 teaspoon red chili powder, 1/4 teaspoon garam masala powder, Few chopped coriander leaves and salt to taste. Mix very well and make a fine potato mixture.
Now take 3 bread slices and spread about 2 tablespoon of potato mixture evenly on one bread slice. Cover with another bread slice and now arrange 7-8 pieces of cucumber on it and sprinkle little salt and chaat masala over it.
Put 4-5 slices of tomatoes and again sprinkle some chaat masala over it. Finally arrange 3-4 slices of onion and beet root. Sprinkle some salt and chaat masala on it. In the end put 2 slices of capsicum and now sprinkle good amount of chaat masala over it.
In this way to make the layers of each and every sliced vegetable. Make sure to sprinkle chaat masala after every layer of veggie.
Cover the sandwich with third bread slice with the chutney side facing down. Press lightly and put the sandwich on the grill.
Grill till both sides are golden and having the grill marks. It will take about 3-4 minutes.
Make one more sandwich from the leftover mixture and vegetables.
Notes
Spread some Tomato Ketchup and Spicy Red Chutney over the sandwich just before serving. You can Grate one full cube of processed cheese on each sandwich. Try to make this sandwich from the big size sandwich bread, that is easily available in market.
Tasty Indian Recipes
Chef Tips:
If you are not applying any type of dressing such as green chutney, tomato ketchup or red chili chutney over the sandwich. Then you can just put some Tomato Ketchup and Spicy Red Chutney on the side of sandwich and enjoy each and every bite of sandwich with these chutneys.
Read how to make Coriander chutney at home. You can use this chutney with almost every Indian Snack dish.
Further Reading:
You might also like to read our more Indian Chaat Recipes.