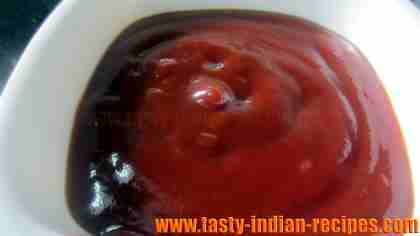 Tomato Ketchup is a healthy, tasty and hygienic homemade ketchup, cooked with lots of fresh tomatoes and other flavorful ingredients. This tomato ketchup is perfect to serve with various types of snacks, you can make variety of toasts, sandwich's, rolls and wraps with this ketchup.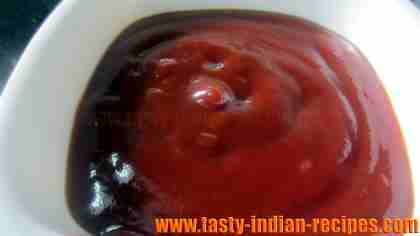 Preparation time: 15 minutes
Cooking time: 20-25 minutes
Servings: 4-5
Ingredients:
2 kgs fresh tomatoes
4 cups sugar
3/4 tsp glacial acetic acid
1-1/2 tsp sodium benzoate
2 green chillies thinly chopped
4-5 cloves garlic
1 inch ginger
1 mace
2 cloves
2 cardamoms
1 inch cinnamon
1-1/2 tsp vinegar
1-1/2 tbsp salt
How to make Tomato Ketchup:
Chop all the tomatoes finely and put in a big vessel.
Keep the vessel on high heat until tomatoes tenders.
Meanwhile chop the ginger, garlic and green chillies finely and mix with the tomatoes.
After 3-4 minutes, lower the flame and leave the tomatoes to cook until thickens.
Add mace, cardamoms, cinnamon and cloves and stir for few more seconds.
Pass the tendered tomato puree through a sieve.
Mash the part left in the sieve thoroughly and again keep on heat.
Add glacial acetic acid, sodium benzoate, salt, sugar and vinegar.
Stir on medium high heat until thickens.
Keep aside to cool and then pour the ketchup in air tight bottles.
You can use it after 6-7 days as per requirement.
Chef Tips:
Sterilize the bottles very well before pouring the ketchup.
This ketchup can be stored for 10-12 months.
This homemade ketchup is more healthy, tasty and hygienic than the store one, hence you can use it on daily basis and feel free to serve it to your kids.