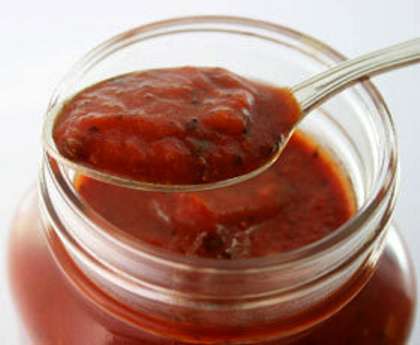 Tomato Garlic Chutney is a sweet, sour and tangy flavored chutney, made with fresh tomatoes, lots of garlic cloves, onion and spices.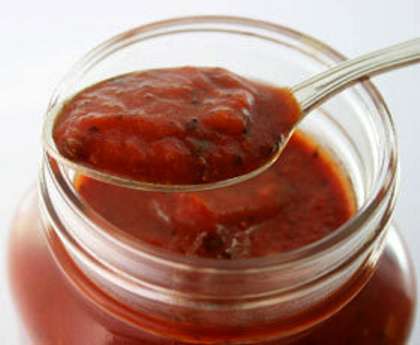 Preparation time: 10 minutes
Cooking time: 15 minutes
Servings: 8-10
Ingredients:
1 kg fresh Tomatoes (Tamatar)
10-12 cloves garlic finely chopped
2 inch ginger chopped / minced
1 medium onion chopped
1 cup Sugar (Cheeni)
1/2 cup Vinegar (Sirka)
1-1/2 tsp Red chili pepper (Lal Mirchi)
4-5 black cardamoms crushed
2 green cardamoms crushed
6 tbsp Raisins (Kishmish)
15 Almond (Badam) blanched
How to make Tomato Chutney:
Heat good amount of water and add chopped tomatoes.
After few boils, remove the tomatoes from the flame and allow to cool aside.
Heat a pan and add chopped tomatoes, ginger, garlic and chopped onion.
Cook until the mixture tenders and then add salt, sugar, red chilli pepper, vinegar and crushed cardamoms.
Cook continue for 10-12 minutes till the mixture thickens.
Finally stir in raisins and blanched almond.
Remove from the fire, cool and store in air tight jar.