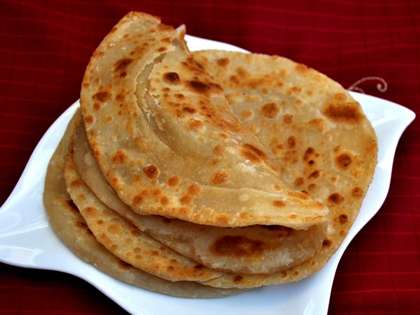 Jam Paratha is the yummy wheat flour paratha stuffed with the favorite kind of jam and then cooked on hot tawa. The paratha becomes more delicious when is to be dolloped with lots of butter. The cute breakfast dish for your cute kids gets ready in just few minutes.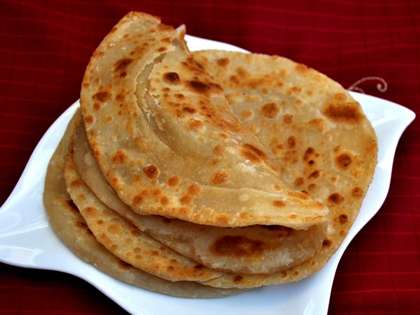 Preparation time: 5 minutes
Cooking time: 15 minutes
Servings: 8 paratha's
Ingredients:
2 cups wheat flour
1 cup jam
Little bit of salt
1/2 tsp jeera crushed
Water to knead
1 cup vegetable oil
2 tbsp butter
How to make Jam Paratha:
In a mixing bowl add flour, jeera and salt.
Knead the dough by adding little amount of water like you normally make other dough's.
Divide the dough into small balls.
Take 2 balls and roll with the rolling pin and make similar size roti's.
Apply little amount of butter and a spoon of jam on one roti, make a thin layer by spreading evenly.
Cover with other roti and seal the sides by pressing both the roti's.
Heat the tawa and drizzle some oil.
Place the roti on hot tawa.
Brush with little bit of oil and cook from both sides until browned.
Serve hot as it is or with roasted papad.
Chef Tips:
This paratha becomes extremely yummy when is to be stuffed with Mango jam, watermelon jam and apple jam.
You can again apply little bit of butter at the time of serving.