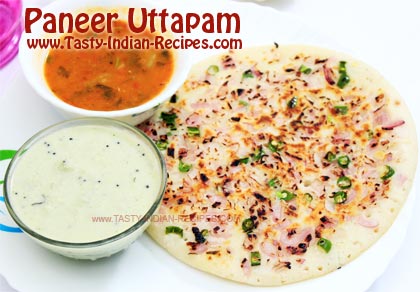 Paneer Uttapam is made by stuffing cottage cheese along with vegetables and spices in the batter of mixed Indian grains. It is one of the most famous and tasty dish of South Indian Cuisine. This uttapam tastes great because of lots of filling of cottage cheese. You can do the best use of left over paneer by making this snack dish.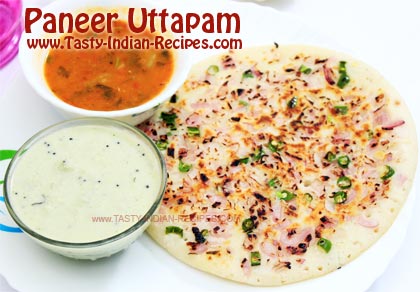 Preparation time: 30 minutes
Cooking time: 10 minutes
Servings: 4
Ingredients:
200 gms paneer
1/2 cup suji (semolina)
3 cups normal rice
1 cup urad dal
2 small onions chopped
2 potatoes boiled and peeled
2 tomatoes chopped
4 green chillies chopped
2 tbsp fresh yogurt (curd)
1 tsp red chilli powder
A pinch of asafoetida (hing)
1 cup vegetable oil
Fresh cilantro chopped
Water as per need
Salt to taste
How to make Paneer Uttapam:
Soak the rice and urad dal separately overnight in the water.
Next morning grind in to a smooth paste and mix well.
Add curd, suji, salt and asafoetida. Mix well.
Add water if required, the batter should be medium thick in consistency.
Heat up the flat griddle or tawa on the medium high heat.
Clean the tawa with the wet kitchen cloth.
Sprinkle little bit of oil.
Pour a big spatula of the batter on the heating tawa.
Make a small but thick circle.
Spread little bit of oil around the edges.
Grate the paneer and boiled potato all over. Also sprinkle onion, tomato, green chillies and cilantro.
Press the whole topping with the help of spoon or kurchi.
Sprinkle some salt and red chilli powder.
Again sprinkle little bit of paneer.
Cook until turns into light brown color from the down side.
Do not high the heat. Simmer the gas and leave to cook well.
Turn it and leave to cook just for few seconds, give a touch of oil all around.
Paneer uttapam is ready to serve hot with coconut chutney and sambar.
Follow the same steps to make other uttapam's.
Chef Tips:
Use paneer and spices as much as you want.
Leave to cook on simmer, it should neither burn nor looks more crispy.
Try to make thick but small uttapam's  to enjoy in restaurant style.
Semolina is an optional ingredient here.