Bread channa is a quick and easy Snack dish can be made as a comfort food for the School tiffin or for the Evening Snack time. Channa are Kabuli chole or chickpeas made in the delicious gravy of onion and tomatoes and served with Indian bread.
Sometimes in our lunch time, I cook chole or channa masala in a good quantity and keep some aside to serve with bread for the evening snack dish. I just give a little twist of garnishing and make by bread channa very quickly. We all literally enjoy it in evening time.
It's a super simple recipe that you can make when you want something quick to eat. I have already posted Peshawari Chana, Chole Bhature and Ragda Patties in my blog, you can take any of the recipe for making this snack dish, and all these recipes are made from kabuli chana/white chickpeas/garbenzo beans.
So just make the channa and go ahead with this Easy bread channa recipe. Even if your guests are going to coming in evening, then too you can make chole in advance and make bread channa for them . Just keep the channa masala a bit thick for this bread channa.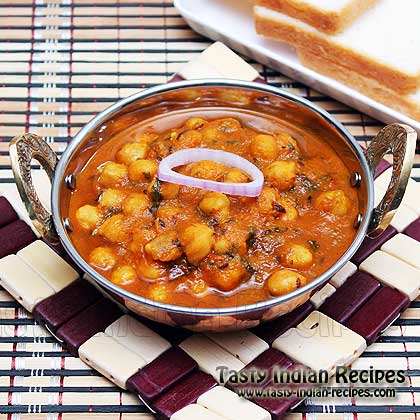 How to make Bread Channa Recipe:
Bread Channa Recipe is a Quick and Easy Snack Dish can be made in just a few minutes, if cooked chana are leftover. Here Chana are made in Onion-tomato gravy and then topped on the Bread Slices and garnished with some Onion and Tomato.
Ingredients
1 cup Peshawari Chana
4 bread slices
1 onion, finely chopped
1 tomato, finely chopped
Fresh coriander leaves, finely chopped
Instructions
Take the bread slices in a plate and pour chana on top of the bread.
Garnishing with some finely chopped onion, tomato and coriander leaves.
Serve it immediately.
Notes
You can sprinkle some green chutney and red chutney on the top and garnish with sev to make it a bread channa chaat. If you want, you can pour the chana between two bread slices for making it as a bread channa sandwich.
Tasty Indian Recipes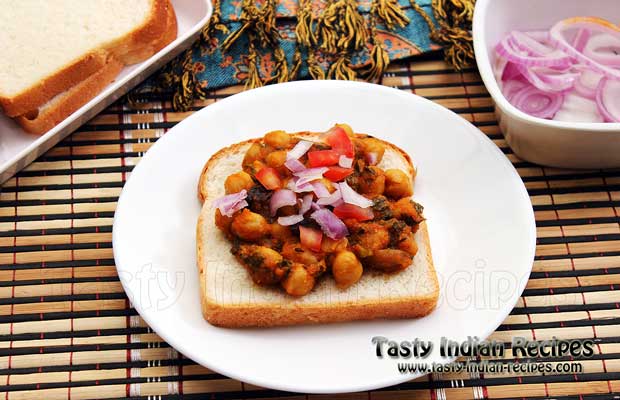 Chef Tip:
One more way of making this Bread Channa at home is that you can toast the bread slice from both sides on a low flame with little oil or butter, till it becomes golden brown and crispy and then pour channa over it.