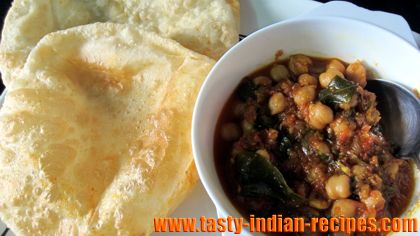 Choley are Garbanzo Beans, Chickpeas or Kabuli Chane, cooked in spicy Indian gravy and served with bhature. It is the most famous dish of Punjabi Cuisine and commonly known as Punjabi Choley Bhature. This recipe is always hitting and leading dish in any party. Punjabi Chole Bhature are commonly seen in every stall of the marriages, functions, ceremony parties, etc. I usually serve these Punjabi choley along with bhature, naan, kulcha or brown pulao. Learn to make tasty and quick Punjabi choley bhature. You can serve them either as a snack dish or as a main course dish.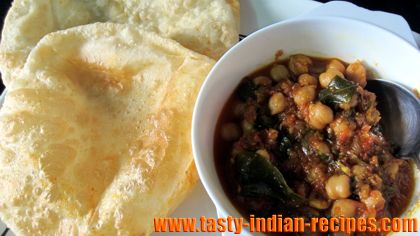 Preparation time: 20 minutes
Cooking time: 35-40 minutes
Servings: 6-8 persons
Ingredients:
For making Choley you need:
1oo gms kabuli chana (white chick peas)
1 onion cut into slices
4 tomatoes chopped
1/2 tsp poppy seeds
1/2 tsp sesame seeds
1 inch of ginger piece
8-9 cloves of garlic
6-8 whole green chillies
1/2 tsp red chilli powder
1/2 tsp turmeric powder
1 tsp coriander powder
2 tsp chole masala powder (store bought)
1/2 tsp lemon juice
1/2 tsp curd
2 tsp vegetable oil
Salt to taste
Whole garam masala:
1 dried red chilli broken in half
1 bay leaf
2 green cardamoms
1/2 black cardamom
2 cloves
3-4 peppercorns
1/2 inch cinnamon
1/2 tsp whole jeera
For making bhature you need:
1 cup all purpose flour (maida)
1 tsp oil
1/4 tsp baking soda
1/2 tsp roasted jeera
1/2 cup hung curd
Salt to taste
Oil to deep fry
How to make Choley Bhture:
Soak the kabuli chane overnight in sufficient amount of water,
Next morning boil them in the pressure cooker for 6-8 whistles until they are soft.
Drain the water but do not throw it, as it will be used later to make gravy.
Heat the oil in a pan and shallow fry the onion. Leave to cool.
In a mixer grinder add fried onion, tomatoes, green chillies, ginger and garlic. Grind to make a puree.
Grind the poppy and sesame seeds, keep aside.
Heat a same pan in which you have fried onion.
Add whole garam masala, saute for few seconds and then add puree. Mix well.
Add salt, red chilli powder, turmeric powder and saute for few minutes on low flame.
Add the grounded seeds and cover the pan with the lid to get a red color of gravy.
Now add boiled chole, lemon juice, curd, coriander powder and chole masala powder.
Mix the water in which choley were boiled and simmer for 8-10 minutes.
Add the required water to make a thick consistency of gravy.
Garnish with fresh coriander leaves and Keep aside.
For making bhature, first of all combine all the ingredients and knead into a firm dough by adding water as per the requirement.
Cover the dough with a muslin cloth and leave to rest for 20 minutes.
Take a small portion of dough and roll out into about 5″ diameter.
Deep fry in sufficient hot oil until bhatura puff up.
Turn and get a golden brown color from both the sides.
Serve with the choley accompanied by chopped onion, nylon sev and pickle.
Chef Tips:
For making the bhature more puffy and bouncy, you just need to press little bit in the center with the help of spatula.
You can use kitchen king, if choley masala is not available.
You may add little bit of red-orange food color to make the gravy more attractive and reddish in color.