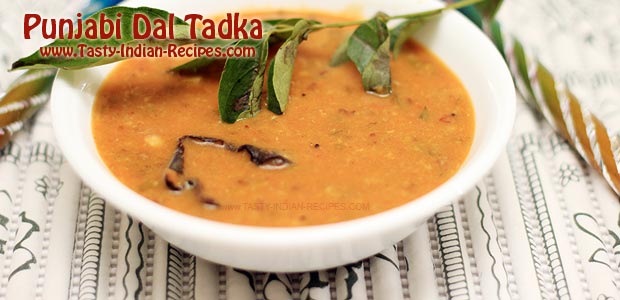 It happens many times, when we want to eat simple and comfort food. Punjabi Dal Tadka is one of those recipes and this particular Dal is famous all over the world. Tadka Dal is a popular Indian Dal, made with yellow moong dal and tempered with aromatic spices. Tadka means "tempering" and Dal is a Hindi word of "lentils".
This week I choose to serve this main course meal from Punjab state, hence I accompanied my Punjabi Dal Tadka with Mixed Vegetable Pulao and Aloo Bhindi Fry. It's my favorite Combo and soon will be yours too. Punjabi Dal Tadka is a popular restaurant dish and this Indian red lentils stew is simple to make. A hearty stew of lentils tempered with Indian spices. It is also known as Punjabi Yellow Dhaba Fried dal.
Learn how to make authentic Punjabi style dal fry (daal fry) at home in few easy steps. Here the tempering of ginger, garlic and cumin acts like a garnish of Dal. Tadka Dal is also referred as a Dal Fry and can be cooked with masoor dal as well. Let's see how this spicy & tasty Dal Tadka has become the specialty of Punjabi cuisine. :)) Hope you will like it.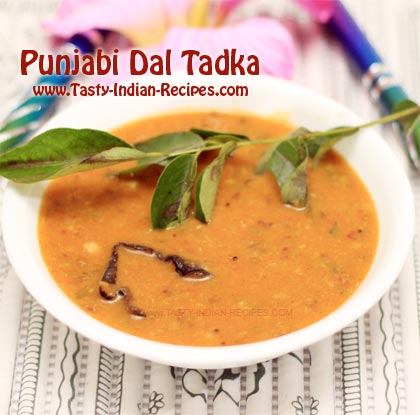 For the tempering of Dal Tadka you will require:
1 tsp cumin seeds
1/2 tsp mustard seeds
Few sprigs of curry leaves
A pinch of asafoetida
2 tsp ginger-garlic paste
2 tsp oil/ghee
How to make Punjabi Dal Tadka Recipe:
Punjabi Dal Tadka Recipe is the famous North Indian Dal recipe, cooked with Yellow Moong Dal and Tadka or tempered with cumin and flavorful Indian Spices.
Ingredients
2 cups yellow moong dal
2 green chillies
1 small onion, finely chopped
2 tomatoes
1/2 tsp red chilli powder
1/2 tsp turmeric powder
Handful fresh coriander leaves, finely chopped
1 teaspoon oil
Salt to taste
Instructions
Wash the lentils very well in running water and soak for about 30 minutes. Chop the tomatoes in big cubes and put in a chopper along with green chillies. You can chop them finely either with a knife or in a chopper.
Heat oil in a pressure cooker and add chopped onion. Saute for few seconds and then add chopped tomatoes. Cook continue till tomatoes mashed well and oil begins to touch the sides of the cooker.
Add soaked moong dal along with 4 cups of water. Mix salt, red chilli powder and turmeric powder. Cover the pressure cooker with a tight lid and leave to cook for 4 whistles, till dal is completely done.
Open the pressure cooker, stir cooked dal and adjust the amount of water and maintain the consistency of dal. For making tempering of dal, heat the oil in a saucepan and add mustard and cumin seeds. Allow the seeds to pop up and then add curry leaves, asafoetida and ginger-garlic paste. Saute and quickly stir in dal.
Mix well and garnish with chopped coriander leaves.
Notes
Punjabi Dal Tadka can be made with masoor dal as well or in equal portions of yellow moong dal and masoor dal (Split red bengal grams). Ghee or Butter can be used for tempering of Dal.
Tasty Indian Recipes
Further Reading:
Punjabi Dal Tadka is generally served with mixed vegetable rice and aloo bhindi fry.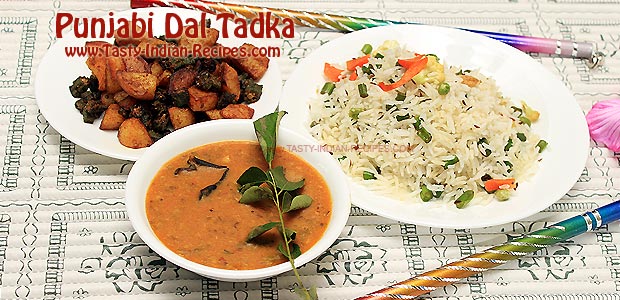 You may also like to read our Variety of Dal Recipes