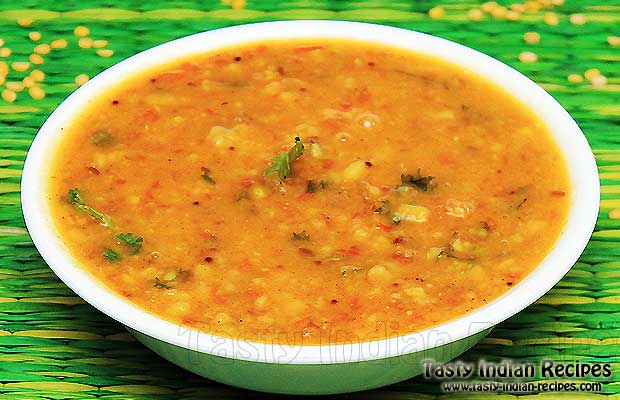 Panchratan Dal Recipe is made by combining five different types of Indian Lentils. This Dal Dish is a specialty of Rajasthan and here panch lentils are cooked together.
Panchratana Dal / Panchmesha Dal or Panchmel Dal is cooked with a delicately spiced onion-tomato based creamy consistency. Panchratan translates to 'five jewels' and this Indian dal recipe is a genuine example of our rich Indian heritage and culture.
In India, Panchratan Dal is served on wedding ceremonies, parties and family functions. In a cold weather, this dal dish really works great as a thick soup other than serving as a comforting accompaniment to roti or rice.
For seasoning of Dal you will need:
A pinch of asafoetida / hing
1/2 tsp crushed coriander seeds
1/2 tsp garam masala powder
1-2 whole red chillies
2 tbsp oil/ ghee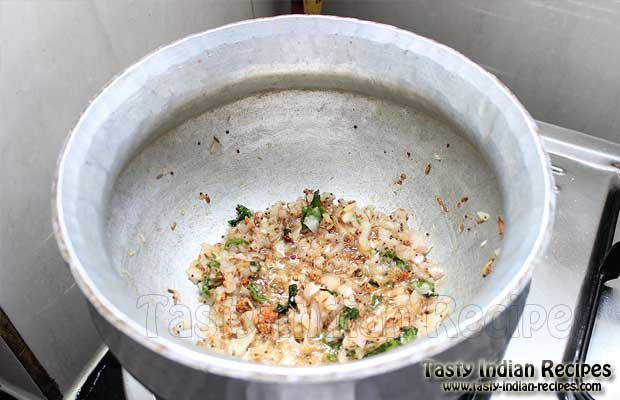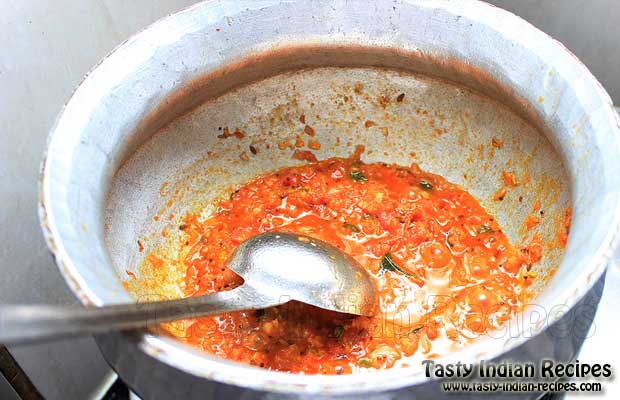 How to make Panchratan Dal Recipe:
Panchratan Dal Recipe is made by combining five different types of Indian Lentils. This Dal Dish is a specialty of Rajasthan and a fine mix of five Dals.
Ingredients
1/4 cup channa dal/bengal gram/senaga pappu
1/4 cup tur dal/kandi pappu/red gram dal
4 tablespoon masoor dal/red lentils
4 tablespoon moong dal/pesara pappu/yellow lentils
2 tablespoon urad dal/minappa pappu/split gram dal
1/2 teaspoon cumin seeds
1/2 teaspoon mustard seeds
3 green chillies, finely chopped
Few curry leaves, broken in bit
1 inch ginger, chopped / minced
2 tomatoes, chopped
1 onion, finely chopped
1/2 teaspoon red chilli powder (or as per your taste)
3/4 teaspoon turmeric powder
1/2 teaspoon lemon juice
Fresh coriander leaves, finely chopped
1 tablespoon oil
Salt to taste
Seasoning of Dal
Instructions
Mix all dals in a pressure cooker, add about 2-1/2 cups of water and little bit of salt. Pressure cook up to 4 whistles, mash and keep aside.
Heat 1 tbsp of oil in a vessel, add cumin and mustard seeds. Allow the seeds to pop up and then add broken curry leaves. Add chopped ginger and stir fry on a low flame to prevent the burning of ginger. Add chopped onions and saute for few seconds on a low heat. Add chopped tomatoes, salt, red chilli powder and turmeric powder and mix well.
After few minutes of continuous sauteing, add cooked dal and adjust with salt. Mix in water as per your desired consistency. Also stir in lemon juice and slow down the heat, till you make its seasoning. Now melt ghee in a saucepan, add crushed coriander seeds, hing, red chillies and garam masala powder. Pour this into dal and combine.
Garnish with chopped coriander leaves.
Notes
Serve this Dal with hot Indian chapati or jeera rice. Also accompany mixed pickle with it. Your meal will be awesome.
Tasty Indian Recipes
Chef Tip:
You can choose any of your favorite five dals for making it and serve with hot Indian chapati or jeera rice.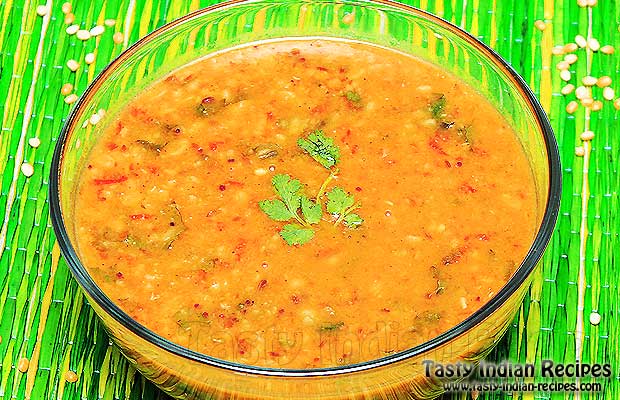 Further Reading:
You may also like to read the easy steps of making Masoor Dal, Punjabi Dal Tadka and Parsi Dal.