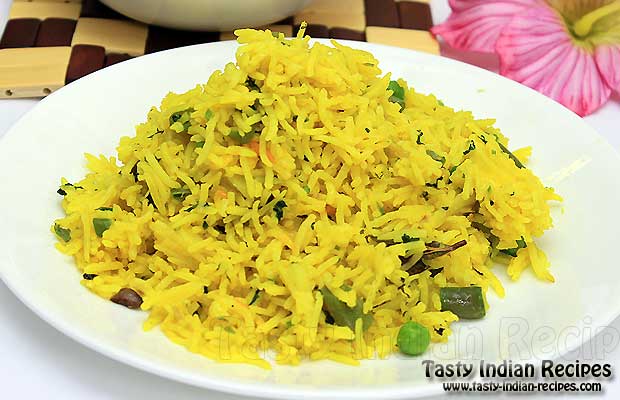 Yellow Rice is simply a delicious rice recipe made with long grain rice and the flavor of saffron and turmeric. This rice can go with any type of chicken and green leafy vegetables like spinach, methi, etc. You can make yellow rice by adding vegetables of your choice. But the main touch is of saffron and turmeric, which should not be missed while making this recipe. I'm going to make simple and tasty yellow rice for you.
Preparation time: 2 minutes
Cooking time: 30 minutes
Servings: 2-3
Ingredients:
1-1/2 cup rice (preferably long grain)
1-1/2 tsp butter
1/2 tsp saffron
1/2 tsp turmeric powder
1/2 tsp cumin seeds
1/2 cup carrot, peeled and chopped
1/2 cup beans, chopped
2 tablespoon green peas
Fresh chopped cilantro
Salt to taste
How to make Yellow Rice:
Wash the rice 2-3 times in normal running water.
Boil the rice in 3-4 cups of water.
While boiling the rice add salt, saffron and turmeric powder.
Mix twice at the time of boiling.
After 10 minutes check to make sure whether rice are tender or not.
Transfer the rice into the strainer and keep aside.
Melt the butter in a sauce pan and add cumin seeds.
Toss vegetables with cumin seeds and mix in cooked rice. Adjust with some salt.
Cook for 2 more minutes.
Garnish with fresh cilantro and serve hot.
Chef Tips:
You may make the onion paste, cook in the butter and can pour into the yellow rice, to give flavor of onion.
From the left over yellow rice you can make fried rice by adding Chinese sauces or you can also make bhuna rice by adding tomatoes and vegetables.