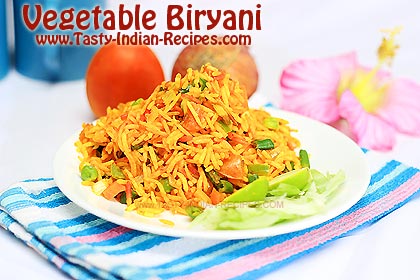 Vegetable Biryani is known as Queen of Biryani's. It is a versatile rice dish, that is compulsory to serve in vegetarian buffets, family occasions, functions and parties. Basmati rice are cooked with several healthy vegetables and fragrant spices. The aroma of vegetable biryani is really amazing and tempting. Mixed Vegetable Biryani tastes really great, when served with pickle and raita.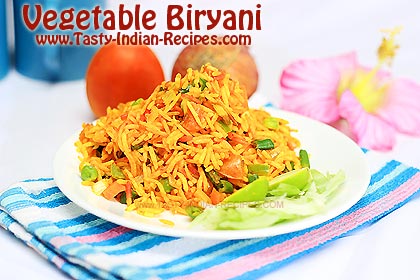 Preparation time: 10 minutes
Cooking time: 25 minutes
Servings: 4
Ingredients:
2 cups Basmati rice
4 1/2 cups water for boiling
Salt to taste
2 tsp butter
2-3 bay leaves
1 cinnamon stick broken in 3 parts
1/2 tsp cumin seeds
1 green cardamom crushed
1 black cardamom crushed
3 cloves
3 tsp raisins
2 tsp blanched almonds
2 tsp blanched cashew nuts
For making veggies you need:
1 onion chopped
1 tsp ginger- garlic paste
4 green chillies chopped
1 small bowl cauliflower florets
1 small bowl carrots finely chopped
1 small bowl french beans chopped
1/2 small bowl frozen mutter (green peas)
1 tsp red chilli powder
1 tsp turmeric powder
1 tsp coriander powder
1 tsp butter or ghee
Salt to taste
For Garnishing you need:
2 tsp toasted shredded coconut
2 cubes of shredded cheese
Freshly chopped cilantro leaves.
How to make Vegetable Biryani:
Wash basmati rice in running water for 3-4 times and then boil them on a medium high heat.
Drain the rice, refresh with cold water, separate them with fork and keep aside.
Melt the butter in a saucepan on low flame.
Add the  raisins, almonds, cashew nuts, cumin seeds, bay leaves, cinnamon stick, crushed cardamoms, cloves, mix well and stir until toasted and fragrant. Keep aside to cool.
On the other side Melt the butter or ghee in a skillet on a medium-high heat.
Add green chillies and ginger-garlic paste.
Add onion and saute until lightly browned.
Now add all the veggies and 1 cup of water.
Add salt, red chilli powder, turmeric powder, coriander powder and cover with a tight lid.
Cook for 5 minutes on low flame until all the veggies are tender and the water is fully evaporated.
Now add toasted mixture of biryani.
Add rice and stir to combine all the spices and adjust with the salt.
Garnish with shredded coconut, cheese and fresh chopped cilantro leaves.
Serve hot with bundi raita.
Chef Tips:
You can give your biryani a lovely flavor by adding saffron milk.
You can use commercial biryani masala for making this biryani.