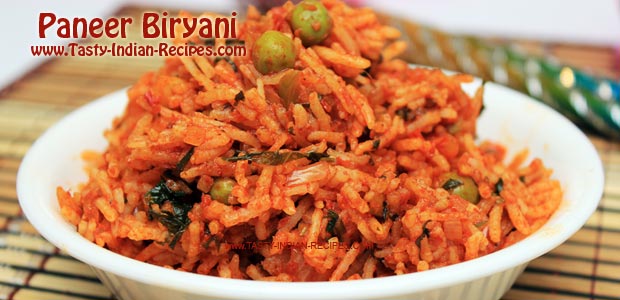 Paneer Biryani is an irresistible rice dish, which turns into delicious biryani when cooked with basmati rice, cottage cheese and other healthy vegetables. This biryani is extremely easy in cooking and extremely perfect for serving when you welcome the sudden guests in your home. It's because here you can do the best use of leftover paneer and the vegetables are so common and usual that we refrigerate on daily basis.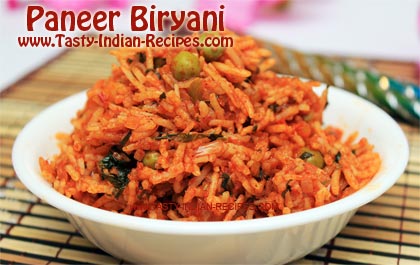 Preparation time: 10 minutes
Cooking time: 25 minutes.
Servings: 4
Ingredients:
300 gms cottage cheese (paneer)
2 cups basmati rice (long grained)
1 cup fresh green peas boiled
1 tsp ginger paste
1 tsp garlic paste
2 cups fresh thick curd
4 green chillies chopped
1/2 tsp red chilli powder
1/4 tsp turmeric powder
1 tsp garam masala powder
2 tsp cardamom powder
1 bay leaf
1 black cardamom
2 cloves
3 black peppercorns
1/2 lemon juice
1/2 tsp saffron
2 tbsp milk
Fresh coriander leaves chopped
Few mint leaves chopped
2 tbsp ghee
Salt to taste
For garnishing:
Few raisins
Few cashew nuts chopped
Few almond chopped
2 tbsp brown onions
 How to make Paneer Biryani:
Wash the rice in normal running water and then boil them in 5 cups of water.
While boiling add little bit of salt, bay leaf, black cardamom, cloves and peppercorns.
Leave to boil on high flame for about 14 minutes.
Check in between and stir.
Meanwhile cut the paneer in small pieces or make dices.
Combine the curd, salt, red chilli powder, turmeric powder and lemon juice in a bowl.
Mix the pieces of paneer in the mixture of curd and keep aside for few minutes.
Mix the saffron in the milk and keep aside, will be used later.
When the rice are 3/4th done then shift them into the strainer and drain out the excess water.
Heat a pan add 1 tsp of ghee, when the ghee seems hot enough then add green chillies and ginger-garlic paste.
Saute for few seconds, add the mixture of paneer.
Cook on low flame for few more seconds to make it little bit brown in color and take out from the pan.
Now let's start making layers for paneer biryani.
Take a wide pan, make one layer of boiled rice, then a layer of cooked paneer, few boiled peas, little bit of garam masala powder, sprinkle little bit of cardamom powder, half of the saffron with the milk, few coriander leaves, few mint leaves and 1 tsp of ghee.
In the same way repeat the procedure and make the layers.
Cover the pan with the tight lid and leave to cook for about 10 minutes on medium high flame.
Garnish with the dry fruits and brown onions.
Serve hot with fry papad and boondi raita or mixed veg raita.
Chef Tips:
The last part of cooking the rice with the tight lid is called steaming, this can be done in the oven. For that you just need to preheat the oven to 250F degrees and then make the layers on baking tray, use more amount of ghee, cover tightly with the oven proof lid or aluminum foil and leave to bake for about 15-17 minutes.
You can use some more vegetables like carrot, beans, cauliflower etc for more flavored biryani.