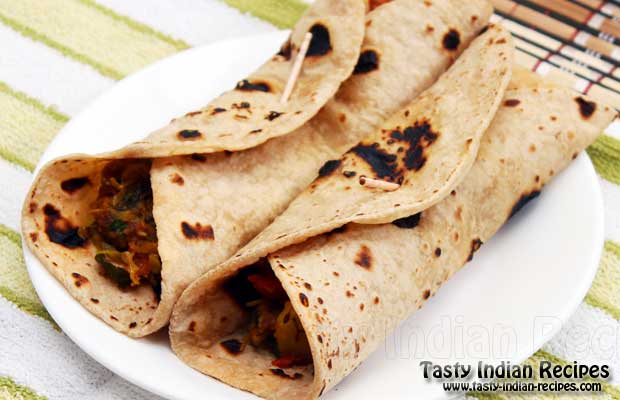 Aloo Patty wrap is a lip smacking evening snack dish, here boiled potatoes turn into delicious patty and then stuffed in the tortilla along with other delicious veggies and sauces and finally turned into mouth watering wrap dish.
Preparation time: 5 minutes
Cooking time: 10 minutes
Servings: 4
Ingredients:
1/2 cabbage shredded
1/2 onion shredded and shuffled
1/2 capsicum shredded
1 cup lettuce
1 cup jalapeno
4 tsp chilli garlic sauce
4 tsp mayonnaise sauce
Chaat masala to taste
Few tooth sticks
How to make Aloo Patty (Tikki) Wrap:
Place the tortillas on clean surface.
Spread little bit of sauces, place each aloo patty on each tortilla.
Sprinkle few vegetables along with lettuce and jalapeno.
Again put little bit of sauces and finally sprinkle some chaat masala.
Fold the wrap from downside first and then from left and right hand side.
Fix with the tooth sticks.
Heat either in preheated oven or on hot griddle only for 5 minutes.
Remove out the tooth sticks and serve hot.
Chef Tips:
You can apply little bit of butter at the time of heating.
For making this delicious tortilla, sauces are compulsory to add.
You may add veggies of your choice.