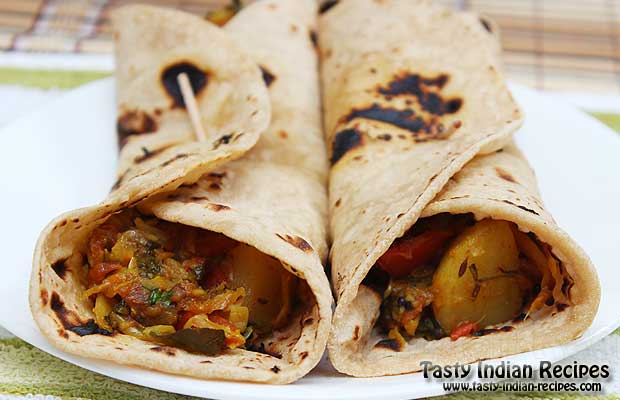 Achari Aloo Roll is a brilliant roll made with the mixture of spicy potatoes, pickle and the exotic blend of spices. Garnishing of rolls can be done with onion or tomato rings, whichever you like. This is a great snack dish which gives a great joy to the tongue. Here you can use home made or ready made pickle, but the condition is it should be fresh and juicy enough to make the rolls.
Preparation time: 5 minutes
Cooking time: 15 minutes
Servings: 6-8 rolls.
Ingredients:
4 potatoes (boiled and peeled)
6-8 Indian flat bread Roti's (wheat flour rotis)
4 tbsp mango pickle
1 small onion thinly chopped
2 green chillies chopped
1/2 tsp nigella seeds (kalonji)
1 inch ginger minced
4 curry leaves
1 tsp cumin seeds
1 tsp chaat masala
1 tsp garam masala powder
Fresh coriander chopped
1 tomato rings (remove pulp)
2 tbsp vegetable oil
2 tbsp butter
Salt to taste
How to make Achari Aloo Roll:
Heat the pan and add oil.
When the oil stars heating then add curry leaves, cumin seeds and kalonji.
Saute for few seconds and then add minced ginger and green chillies.
Stir for few more seconds.
Now add chopped onion and saute until onion translucent.
Saute it on medium high flame.
Mash the boiled potatoes and mix with the onion.
Add salt, cumin powder, 1/2 tsp of chaat masala and garam masala powder.
Mix well and saute for 4-5 minutes on low flame.
Finally add chopped coriander and keep aside.
Now place a roti on clean and dry surface, put a spoon of potato mixture in the center, spread a tsp of mango pickle, arrange 1-2 rings of tomatoes and sprinkle some chaat masala.
Roll it up and wrap it with a tissue paper.
In the same way make the remaining rolls.
Serve immediately.
Chef Tips:
You can arrange some onion rings as well for making more tasty achari aloo roll.
Here you can use pickle of your choice.
You may serve these rolls with coriander or mint chutney.
You can make these rolls with the left over rotis, but it would be advisable to use fresh and warm rotis to enjoy a great snack dish.

Achari-Aloo-Roll