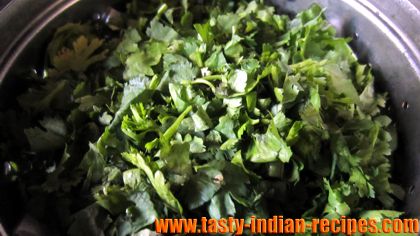 Coriander are the small, tiny and cute green leaves, which are must to garnish the Indian food. Coriander is famously known as dhania, cilantro, parsley, kothmir and dhana. It is a herb or a plant belongs to the Apiaceae family. The leaves of coriander are different in shape and size.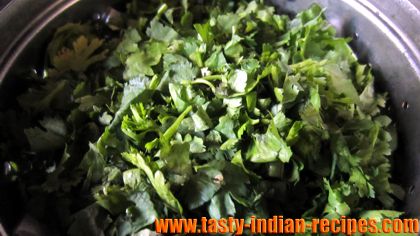 A coriander plant creates fresh and dried coriander. Most probably fresh coriander leaves have been used in Indian cooking, where as dried coriander are the seeds having the citrus overtones. It is very important to wash and clean the coriander leaves before putting in the cooking.
The leaves and stems are intended with the dust, sand and soil, that's why it should be thoroughly washed and cleaned before chopping and using. At the time of buying coriander always go for a bunch having a deep green color. The leaves must be small in size and having a mild and fresh aroma and flavor.
USES:
Coriander leaves are used for various seasoning and garnishing purposes.
Indian curried, gravies, salads and soups are highly enhanced with aromatic leaves of coriander.
The powder form of coriander seeds is roasted and then used a fragrant and aromatic spice to flavor several cakes, cookies and beverages.
These leaves are mainly used in Mexican wraps, rolls, salsas and many of Chinese dishes.
Indian lentils, tofu and vegetable recipes are highly imparted and garnished with fresh coriander leaves.
Coriander chutney and the combination of coriander and mint chutney is a best dip with any type of veg and non-veg starter or appetizer dishes.
Chicken, meat, fish, prawns and lots of non-veg marinades get flavored with a good amount of coriander leaves.
Coriander chtuney is the best option to serve with any type of snack dish, also it is used to make flavorful mint chutney.
STORAGE:
Coriander leaves should be rinsed well before using and when they start leave their moisture then only place them in a plastic bag.
You can store the chopped coriander in the container having the holes for keeping the balance of temperature.
The chopped coriander must be used with 2 days, else it will get dry and lose its aroma.
The best way to store the coriander is separate the leaves form the stems and store them in air tight containers, zip pouches or plastic bags and at the time of using clean in normal water and then use.
BENEFITS:
Coriander seeds are highly imparted with low cholesterol properties.
Coriander helps in proper digestion of food.
It works as a great appetite stimulant, which helps in the secretion of gastric juices in the body.
Coriander seeds are helpful to relieve from various pains, joint aches and rheumatism.
Coriander is greatly useful for solving problems of muscle pain, stiffness, headaches and arthritis.
Coriander leaves consists essential oil which has antibacterial properties and best for fungicide.
Coriander works great for increasing appetite and relieving from indigestion, flatulence, nausea and diarrhea.
It also helps in increasing the body circulation and relieving the fluid retention.
In one or another way coriander seeds, coriander leaves and coriander oil are highly used and effective for Indian cooking and health.