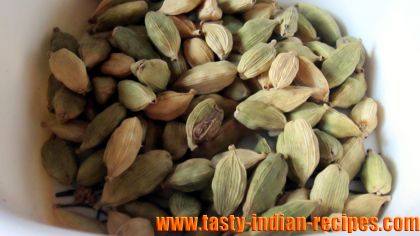 Green Cardamoms are also known as green cardamom, green elaichi, elaichi or choti elaichi. The Indian cuisine is greatly spiced and flavored with whole garam masala and the green cardamom is one of the most demanding and leading ingredient to be used for make the perfect blend of whole garam masala.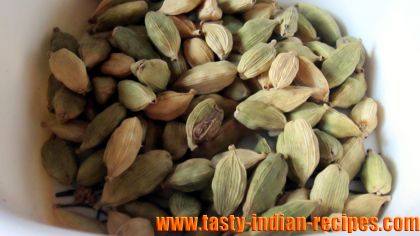 Green cardamoms can be whole, crushed or powdered. The freshly grounded powder of green cardamoms lasts for long time. A pinch of green cardamom powder is enough to spread its aroma and flavor all over. Although the flavor of cardamom is pleasant, aromatic and warm pungent, but this aromatic herb is considered as a versatile ingredient.
This ingredient is honored with one of the most important national spice of India. Cardamom has been growing as a perennial herb with thick, fleshy rhizomes and underground stems shooting leafy roots having the leafy stems. The leaves are big enough in the height, having the color either white or pale green.
Most of the times the seeds are turned from pale green to yellow fruits and the brownish black seeds. While buying always go for a superior quality cardamom pods, as they are expensive in considering the cost factor, but it would be worth to buy to maintain the aroma and flavor in the dishes for long time.
Usually cardamoms are whole or ground one. The main seed is either of light green or brown or white in color. The layer or skin of cardamom is thin and elegant. While choosing them always go for the dark greener ones, as they have the best fragrant and flavor.
USES:
Cardamoms are unique to give the distinctive flavor to various desserts such as, rabdi, gulab jamun, gajar ka halwa, kheer, puddings and many more such dishes.
Crushed cardamoms can be used for making the refreshing tea and coffee.
Green cardamom is a common and basic ingredient of whole garam masala, which intends the rich taste in several types of pulaos, biryani's, curries and lots of gravy recipes.
Vegetarian and non-veg dishes of Indian cooking imparts cardamoms as a base of perfect whole garam masala.
Green cardamoms are widely used for making curry powder.
In India people tend to accommodate the cardamom for making paan also.
Various types of kebabs, biryanis and fish dishes are flavored with the green cardamom to create the uniqueness in the recipe.
STORAGE:
It is better to store the cardamoms in the form of whole pod, its because if the seeds are loose or exposed or grounded and kept out for long time then they lose their flavor quickly.
Cardamoms should be stored at cool and dry place.
The best place to keep the cardamoms fresh is air tight containers.
Green cardamoms can remain aromatic for more than 6 months, if preserved and used properly.
BENEFITS:
Green cardamoms helps in stimulating appetite and Cures halitosis.
It stimulates proper digestion system and helps in reducing the gas and acidity problems.
It works great for the people who are suffering from the constipation.
It helps in improving the blood circulation in the lungs.
It considered best for the bronchitis and asthma.
Mix 2-3 cardamoms and few mint leaves in warm water to relieve from Hiccups.