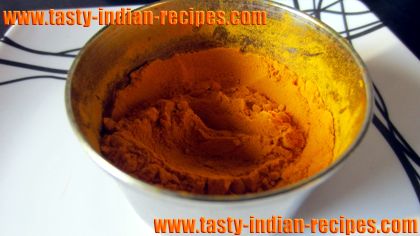 Turmeric powder is a rich and bright yellow spice powder having the great use in Indian cooking. In Indian it's being used since years to flavor and texture the food. This spice powder is basically created from dry turmeric Rhizomes.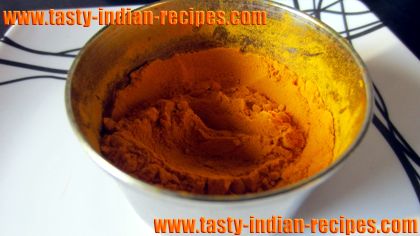 The amazing aspect of turmeric is that it is useful for major reasons such as for coloring the recipes, flavoring the dishes, cosmetics and makeup purpose and also for the medicinal properties.
Turmeric is mainly famous with the name of Haldi. While going for turmeric, you must check out its color which is always bright yellow. Now a days turmeric is mixed in other colored ingredients to market several shades of it, but it is very important to check the artificial mixing materials and color contents at the time of buying turmeric.
Turmeric is available in chunks or in powder form. You can grind these chunks for making fresh home made haldi. At the time of buying it, verify its freshness, color and quality of the turmeric.
USES:
As per the Ancient Indian Vedic Culture, it is believed that, turmeric is a base of a would be bride, the mixture of turmeric, chandan and rose water is to be used to enhance the beauty of an Indian bride.
This mixture is flawless for the face and body without any reactions or itching.
Turmeric acts as as base of beauty products, spice to the food and also in spiritual ceremonies.
Turmeric gives the musky flavor and yellow color to the food items.
A pinch of turmeric do the wonders in the Indian cooking.
You may hardly imagine few of the recipes without turmeric powder.
It is being used almost in every vegetarian and non-veg dishes.
It is mainly used to compliment the recipes like salads, rice, pulao's, dal and dry vegetables.
Indian curries, gravies, bhuna recipes, soups, salads and many more dishes are to be enhanced with the color and flavor of turmeric powder.
STORAGE:
Turmeric powder must be stored at a cool and dry place.
If you are buying it in the bulk then you must refrigerate it.
It should be away from the direct sun exposure as it causes the turmeric to fade.
Finish the earlier bought or old stock of turmeric first and then only use the new one.
Do not mix old the and new stock of turmeric.
Keep it in air tight container.
The flavor and aroma of turmeric can be lost if kept open for long time in the air.
BENEFITS:
Turmeric is a great beauty treatment which can be used by mixing with other healthy ingredients.
The mixture of turmeric, lemon and honey works as a great moisturizer for the skin.
A pinch of turmeric with a tsp of milk brings glow to a rough and dry face.
Turmeric powder and extracts are antioxidant property.
The combination of hot milk, a pinch of turmeric, ajwain, ginger and honey is a great treatment to relieve from severe cough and cold.
Turmeric can be used to cure the sprains, swellings and injuries.
The herbal preparations are impossible without using turmeric powder.
Turmeric powder is being used for encapsulation, which are ultimate beneficial turmeric health tablets.
Turmeric can be used to stop the blood flowing from the any wounds and cuts.
Turmeric has a great property of changing color which serves as a chemical indicator for making the acids and alkali.
Cold, cough and throat infections can be treated with the turmeric powder.