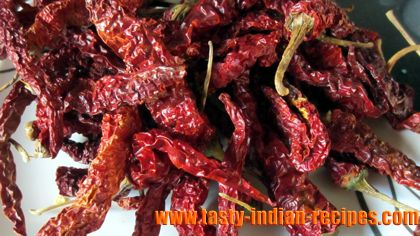 Whole dried kashmiri red chillies are also famous as kashmiri mirchi or kashmiri mirch. Kashmiri red chilli is a best ingredient to flavor the Indian recipes. The food gets less spicy touch and rich and pleasing color because of these dry red chillies. Indian food or Indian recipes are necessarily pepped up with these aromatic chillies.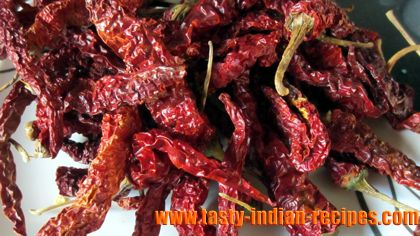 Kashmiri red chillies are less pungent in nature having the vibrant and rich red color to flavor the shahi gravies and curries. Although you can see variety of Kashimiri red chillies in the market but the one are always best which have bright red color with high retention.
These chillies are not spicy but it can be said, that it is a unique blend of medium hot quality red pepper. Kashmiri red chillies are available in every grocery store, retail shop, mega marts and small shops. The basic use of these chillies is just to give a good color to the recipe instead of giving hotness.
You can use 3-4 chillies at a time to temper the recipes. They are the best option for flavor, color and taste, even if you are throwing them more without noticing, then too there won't be any type of compromise with your dish.
USES:
Soaked red chillies are best to use in the gravies and dry dishes, for that you just need to remove the stems and seeds, place them in hot water, leave to rest for 30 minutes, drain and use as per the requirement.
The roasted kashmiri chillies have the exotic aroma which spreads on the spot just putting them on hot tawa or in oven.
These chillies can be added to various marinades and preparations for making veg and chicken dishes.
Lentils can be tempered with these delicious Kashmiri red chillies.
You can use roasted kashmiri red chillies for making variety of rice, pulao and biryani's.
The appealing red color can be easily given to the dishes who are colorless.
These chillies has the best use while making tomato sauces, soups, stews and many more such dishes.
You can grind the soaked kashmiri red chillies by adding little amount of paste and then can be used as a red chilli paste for making pizza's, dosa's, rolls' uttapam and hundreds of snack dishes.
STORAGE:
Kashmiri red chillies are to be stored in air-tight container.
They should be away from the moisture and air exposures.
They can be preserved for many months, if kept properly.
You can refrigerate kashmiri red chilli paste or powder for many weeks.
BENEFITS:
Kashmiri red chillies contains good amount of vitamin C and vitamin A which is necessary to boost the immune system of the body.
It has vitamins B and E which are ultimate source of low fat and low cholesterol.