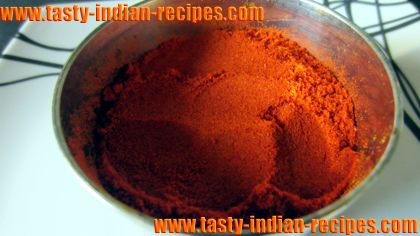 Red Chilli Powder is also known as lal mirch powder or lal mirchi powder. This is one of the most powerful hot spice which can easily affect the ears, tongue and stomach. That's why it is used in the proportion and is adjusted with the green chillies.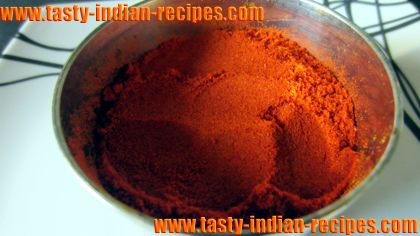 This spice blend consists few types of dried red chillies, which further can be grounded to make a fine powder. This particular spice does not contain only the ground chillies, but it can be the mixture of various other spices such as oregano, paprika, salt, garlic powder, cumin and so on.
Indian food or Indian recipes are greatly influenced with this powder. The hot flavor of the chilli powder really enhance the recipes. There are hardly dishes which are served without using red chilli powder. You can easily get red chilli powder in the grocery stores.
Normally there are two types of red chillies, one which have dark red color with less spice and the other one having light red color with great amount of spice. At the time of buying always go for the superior quality of chilli powder. It would be advisable to read the labels of commercial brands and it should be taken care that the chilli powder does not included the free flowing agents and the additional preservatives.
USES:
Chilli powder is the base for making any flavored, hot and spicy food.
Chilli powder is greatly used for various types of veg and non-veg marinades.
It is highly incorporated in various salads, kachumbers and tomato based sauces.
The ethnic dishes are mostly imparted with the flavor and heat blend of the chilli powder.
It is an ultimate ingredient, responsible to add a lovely and wonderful red color and sharp flavor in any recipe.
Colorless and Tasteless dishes can be easily enhanced and improved with the little amount of this hot, spicy and colorful ingredient.
STORAGE:
Red chilli powder can be stored for 10-12 months.
It is important to store it at cool and dry place.
It should be always kept away from the direct sunlight and heat.
Air-tight containers or jars are perfect place to store red chilli powder.
For keeping it fresh for long time, you can put a chunk of asafoetida in it.
BENEFITS:
Red chillies are highly incorporated with the great rich contents like Vitamin C and pro vitamin A.
Red chillies consists the huge amount of capsaicin, which helps in boosting metabolism.
Capsaicin is proven an effective treatment for sensory nerve fiber disorders.
Red chillies is known as a natural pain reliever.
It also helps in clearing the congestion of the stuffed up nosy and congested lungs.
It is an effective treatment to prevent the stomach ulcers.
Red chillies are greatly helps the obsess people, it helps in loosing weight and boost the immunity in the body.