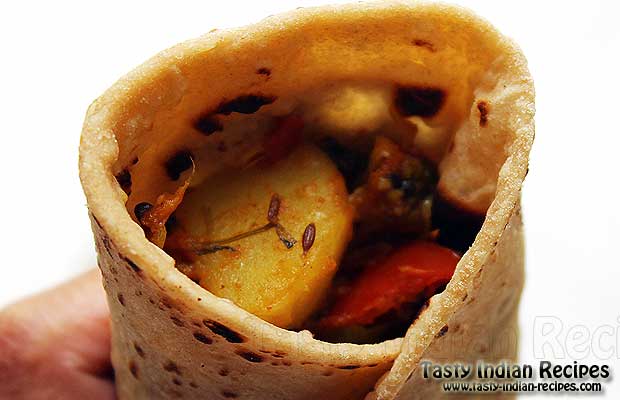 Aloo Frankie is made with the unique and soft maida roti preparation, stuffed with the spicy mixture of boiled potatoes and the fresh flavored spices. A great snack dish, which is all time hit and delicious to serve with the balanced flavors and ingredients. We are going to tell you the easy steps for making authentic style aloo frankie.
Preparation Time: 5 minutes
Cooking Time: 15 minutes
Servings: 6
Ingredients:
For the stuffing you need:
3 medium size potatoes (boiled and peeled)
1 big onion thinly chopped
2 tomatoes thinly chopped
2 tbsp ginger-garlic paste
1 tsp cumin seeds
4-5 curry leaves
4 green chillies thinly chopped
1/2 tsp red chilli powder
1/2 tsp turmeric powder
1 tsp coriander powder
1 tsp garam masala powder
1/4 tsp amchur powder
Fresh cilantro chopped
2 tsp vegetable oil
Salt to taste
For the roti you need:
1 cup maida (all purpose flour)
1 tbsp curd
1 tsp ghee
Salt to taste
4 tbsp vegetable oil
Water
For the proceeding you need:
2 tbsp processed cheese grated
Chaat masala powder
1/2 onion thinly chopped
How to make Aloo Frankie:
Mix the ingredients of making roti and knead the dough by adding little amount of water.
Cover the dough with the cheese cloth and keep aside for 20 minutes.
In the meantime start making the stuffing of the Frankie.
Heat the oil in a pan, add cumin seeds and curry leaves.
Allow the seeds to crackle and then add green chillies and ginger-garlic paste.
Saute for few seconds.
Now add chopped onion and saute again until onion tenders and turns into little light golden in color.
Add chopped tomatoes, salt, red chilli powder and turmeric powder.
Mix well and cook until the nice color of onion and tomatoes comes out.
Now mash the boiled potatoes and mix in the pan mixture.
Add coriander powder, garam masala powder and amchur powder.
Simmer the flame and stir continuously until potatoes mashes and coats very well with onion and tomatoes.
Add cilantro and cook only for 3-4 more minutes and then switch off the gas.
Now divide the dough into small size equal balls.
Take one ball and roll out just like you do for making any chapati.
Use rolling pin and make a small and thin roti.
Heat the tawa and drizzle some oil.
Place the rolled out roti on heating tawa and cook from both the sides until browned.
Remove out on the flat plate, in the same way make all other roti's.
At the time of serving, take one roti, place the potato stuffing in the center, sprinkle some chopped onion and chaat masala and give the final touch of grated cheese.
Fold it from both the sides and wrap a tissue paper around the frankie.
Serve immediately with coriander chutney.
Chef Tips:
Stuff the potatoes only at the time of serving only, do not serve already prepared frankies, as they becomes cold, tasteless and mushy.
At the time of serving you can apply little bit of butter and coriander chutney on the cooked roti, then stuff the potatoes mixture and then wrap, this is also the best way to serve.
I have used cheese cubes of the famous brand "Mother Dairy", it's because it is one of the most delicious cheese. You can use any of your favorite cheese in this frankie.

Aloo-Frankie