Aloo Cheese Paratha or Stuffed Aloo Cheese Paratha is one and same thing. A little twist to the normal Indian paratha with lots of cheese. These parathas are stuffed with the mixture of potatoes and cheese.
Kids love the combination of aloo and cheese, hence I decided to follow it with a Kid Friendly easy to pack School Tiffin dish.Generally we eat aloo parathas, paneer parathas and many more such parathas.
I'm sure that nothing can beat these cheese aloo parathas right from hot pan. Not only this, but these can be a good choice for packing for lunch or breakfast if your kids happens to like cheese.
Schools are reopened and I thought to plan all the different types of parathas I can think of, specially for my readers out there and the moms can get the huge choice of making breakfast at home.
From the normal stuffed parathas, these aloo cheese parathas are so delicious that I had a serving of it for myself for breakfast..:)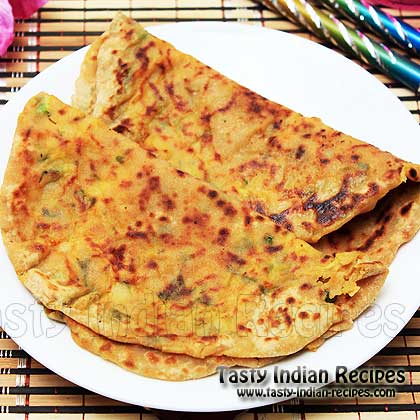 How to make Aloo Cheese Paratha Recipe:
Aloo Cheese Paratha Recipe
Aloo Cheese Paratha Recipe is the Stuffed Potato and Cheese Paratha, simply delicious Indian Breakfast to serve with Pickle or Curd.
Ingredients
For making Paratha Dough you will need:

2 cups wheat flour
1/2 tsp cumin seeds
2 tbsp oil
Salt to taste
1/2 tsp red chilli powder (optional)
Water to knead the dough

For the Stuffing of Paratha you will need:

4 boiled potatoes
1/2 cup grated cheese
4 green chillies, finely chopped
1/2 tsp turmeric powder
1/2 tsp garam masala powder
2 tbsp fresh coriander leaves, finely chopped
Salt to taste
Instructions
In a big bowl, mix all the ingredients of making dough. Gradually add water and try to make a soft and smooth dough. Keep aside. Also keep the grated cheese ready with you.
Peel and mash the boiled potatoes in a bowl. Add salt, green chillies, turmeric powder and garam masala powder. Mix everything well and set it aside.
Heat a tawa to cook the parathas. Dust the surface. Pinch out balls from the dough. Take a small ball or portion and roll out with a rolling pin. Make a small roti, Put 2 tbsp of potato mixture in the center, also spread good amount of grated cheese over it.
Carefully seal the edges of paratha, cover with the sides to make sure the stuffing is fully covered.
Roll it again very gently, so that stuffing doesn't come out.
Place the paratha on hot tawa and cook from both sides with oil smeared on top.
Aloo Cheese Paratha is ready to serve.
Notes
You can apply little butter on it, if your kid likes it. Sometimes I serve it with pickle and curd, it is as good as such.
Tasty Indian Recipes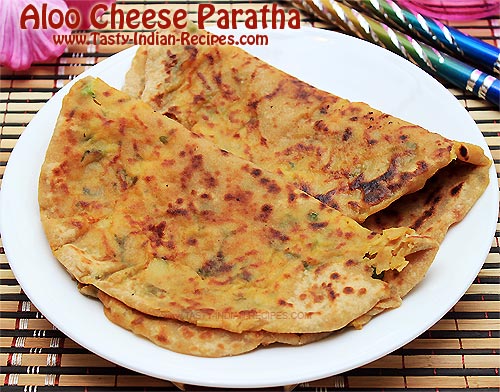 Further Reading: