Egg Paratha is the delicious Indian Breakfast Recipe made with Eggs, Wheat Flour and Spices. The spicy egg mixture is topped on simple Indian roti and turns into tasty egg paratha recipe.
This Egg Paratha is easy, simple and takes less time, especially if you have leftover wheat dough. My mom would usually make this for us for breakfast or brunch.
If you are a vegetarian, you can stuff it with paneer or legumes filling or just have it plain without any stuffing.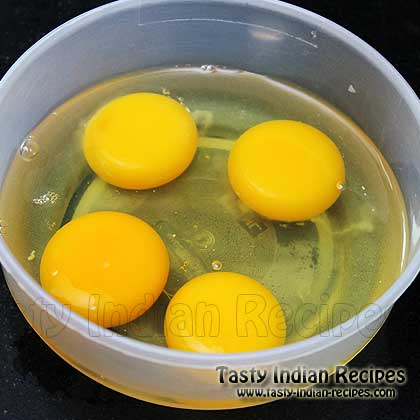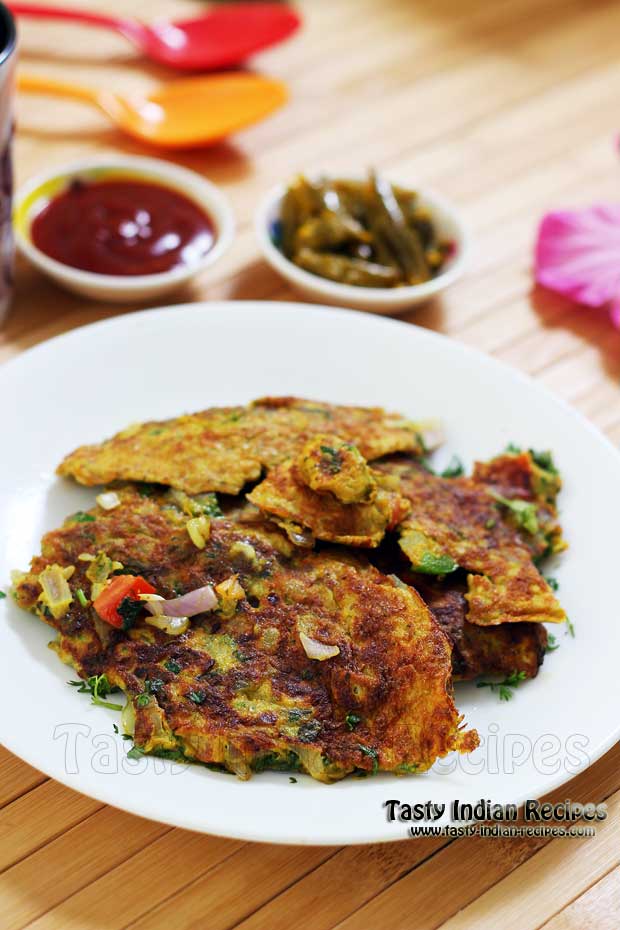 There are variety of Egg Recipes that can be made at home such as Egg Omelette, Egg Fried Rice, Egg Pakoda and many more such mouth melting dishes, but personally I like this Combo of Eggs and Paratha.
I make this recipe, when I have little time to cook or I'm too tired to cook. All you need is some eggs, few veggies and some leftover wheat dough.Lets start making our delicious Egg Paratha Recipe.
How to make Egg Paratha Recipe:
Egg Paratha Recipe is one more Healthy and Tasty Indian Breakfast can be made with Eggs and Wheat Flour.
Ingredients
2 cups wheat flour (gehun ka atta)
7 eggs
1 tbsp ghee
1 small onion, finely chopped
1 small tomato, finely chopped
1/2 teaspoon turmeric powder
1/2 teaspoon red chili powder
1/2 teaspoon cumin seeds
1/2 tsp black pepper powder
2 green chilies thinly chopped
Few coriander leaves, finely chopped
Cooking oil
Salt to taste
Instructions
Beat 6 eggs in a bowl and add 2 fine chopped green chilies, 1/2 teaspoon black pepper powder, chopped onion, tomato, few chopped coriander leaves and salt to taste.
Mix it well and keep aside.
Now take a big bowl and mix wheat flour, 1/2 teaspoon red chili powder, turmeric powder, cumin seeds, ghee, coriander leaves and salt to taste. Also beat one egg in it.
Knead a smooth and pliable dough with help of water.
Heat tawa on high flame and make 6 equal sized balls from the prepared dough. Take one ball or portion and make a small roti out of it. Apply little oil, fold and roll again just like we roll Indian chapati.
Drizzle few drops of oil on heating tawa, reduce the flame and place the rolled out roti in it.
Cook for 2 minutes and then spread some mixture all over on it. Spread only the egg mixture of one egg, so that we should be able to make 6 egg parathas out of it.
Cook on low flame till the paratha become fluffy and golden brown in color.
Fold and flip it. Cook from another side as well for 1-2 minutes.
Once the egg paratha is cooked well, that is when it is browned well, the egg mixture has also browned and cooked like an omlette, then the parathas are done.
Your egg paratha is ready. You can cut into some pieces just before serving.
Notes
You can make this paratha from all purpose flour (maida) as well. Add chopped ginger for bringing more flavors in this paratha.
Tasty Indian Recipes
Chef Tips:
Butter can be used instead of oil.
I have made round shaped parathas, whereas triangle or square egg parathas also can be made.
This paratha tastes yummy and is to be eaten as it is.
At the time of serving, apply little bit of butter over all on the paratha and sprinkle some chaat masala. Serve delicious.
Serve it immediately else will become soggy.
Adjust the spices as per your requirement at the time of making dough.