Indian Pakode (fritters) are very famous pakode in all over world, and today I'm going to make unique but very tasty Egg Pakoda recipe. Fritters are always very tasty, they may be veg or non-veg and today we are going to make Egg Fritters.
These tasty homemade Egg Pakoda is an all time hit snack dish in my home on every Sunday morning. We all enjoy them with a cup of tea or coffee. They can be made under 10 minutes with a very good taste.
Always buy good quality eggs. You need to hard boil them for making proper pakode. Also take care of the consistency of Gram Flour Batter, that should not be too thin or thick. It should be of average consistency and make sure to coat the boiled eggs very well in the batter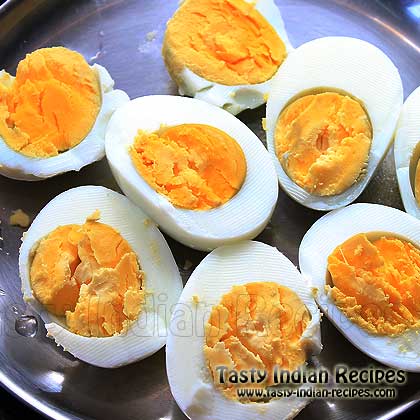 How to make Indian Egg Pakoda:
Egg Pakode are simply made with Boiled Eggs, Gram Flour and Spices. It is a quick Snack Dish and can be made under 10 minutes.
Ingredients
8 Eggs (hard-boiled)
1 cup Bengal Gram flour (Besan)
2 green chilli finely chopped
1/2 teaspoon red chilli powder
1/8 teaspoon baking soda
1/4 teaspoon black pepper powder
Fresh coriander leaves finely chopped
Salt to taste
Oil for frying
Instructions
Remove the skin of boiled eggs and cut each boiled egg into two halves. Sprinkle little salt and pepper on all the pieces of boiled eggs.
Mix the gram flour salt, chili powder, soda, green chilli and chopped coriander in a big bowl. Gradually add water and make the batter of average consistency.
Heat generous amount of oil in a frying pan. Carefully dip each egg piece in the prepared batter and deep fry in hot oil until golden brown from both sides.
Serve immediately with green chutney and tomato sauce.
Notes
Serve these egg pakode immediately otherwise they turn soggy very fast.
Tasty Indian Recipes
Chef Tips:
You can make 4 pieces of each boiled egg.
Carefully check the consistency of batter, it should not be too thick or too think.
Fry these pakode on medium flame, so that they get cooked very well from inside and outside.