Pasta is the famous snack dish of Italian Cuisine. It is also a staple food of traditional Italian Recipes. I generally cook flavorful pasta in vegetables. Today I have cooked this Easy Cheesy Vegetable Pasta Recipe with some fresh vegetables and a hint of Indian spices.
Typically pasta is made from an unleavened dough of a durum wheat flour or all-purpose flour, mixed with water and formed into sheets or various shapes, then cooked and served in any number of dishes.
There are number of Pasta Dishes, that you can quickly make at home. Pasta is liked by kids as well as adults, and you can do lot of variations with it and make it as per your kids choice. Pasta is considered as a satisfying Snack dish, because of its high carbohydrate content.
If your kids are hungry and demanding this pasta at any time, then you just need not to worry about that, this Easy Cheesy Vegetable Pasta Recipe can be a Quick and Easy recipe for you. Get some packets and then quickly make it by adding flavorful and mild ingredients. You can either add Vegetables for making it a Vegetarian dish or even add some Non-Veg food items, such as Chicken or Egg for making it a Non-Vegetarian Dish.
Italian style Pasta also contains milk and cheese and both are good sources of protein and calcium, while the other ingredients supplement this recipe with iron, folic acid, fibre and vitamin C.
Fresh pasta was traditionally produced by hand, sometimes with the aid of simple machines, but today many varieties of fresh pasta are also commercially produced by large scale machines, and the products are widely available in supermarkets.
Let's see how to make quick, tasty and easy cheesy vegetable pasta recipe at home.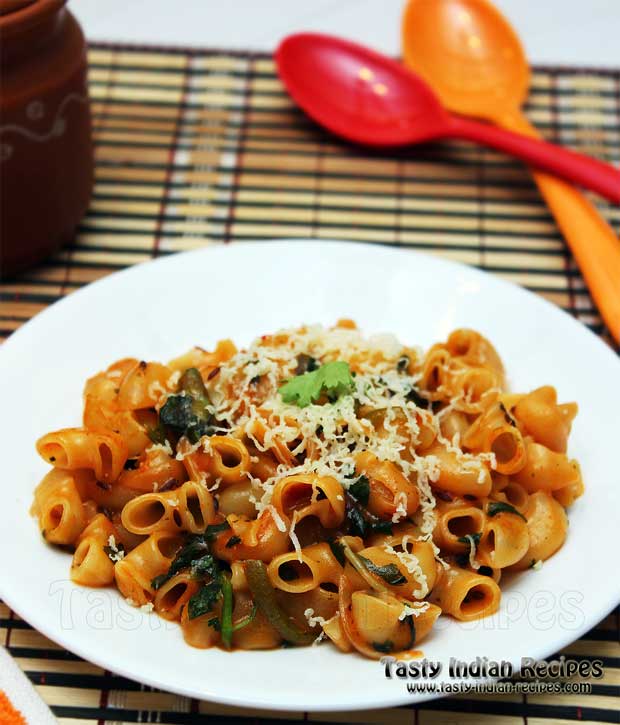 How to make Easy Cheesy Vegetable Pasta Recipe:
Easy Cheesy Vegetable Pasta Recipe
Easy Cheesy Vegetable Pasta Recipe is made with Cheesy Flavorful Pasta, Vegetables and some Mild Spices. It's a quick and easy Snack dish to make at home.
Ingredients
1 packet (70 g) Sunfeast Pasta Treat (Cheese Flavor)
1/2 onion, sliced
1 tablespoon green bell pepper, sliced
1/2 tablespoon yellow bell pepper, sliced
1/2 tablespoon red bell pepper, sliced
1/2 tomato, chopped
1 green chili, slitted
1/2 teaspoon cumin seeds
1/4 teaspoon red chili powder
1/4 teaspoon black pepper powder
1 tablespoon fresh coriander leaves, finely chopped
1/2 teaspoon oil or butter
1/2 tablespoon grated cheese
Salt to taste
2 cups water
Instructions
Slice the onion, bell pepper, tomato and green chilies and keep aside.
Heat oil in a skillet and add 1/2 teaspoon cumin seeds. Allow the seeds to splutter.
Add 1/2 sliced onion, 1 tablespoon sliced green bell pepper, 1/2 tablespoon sliced yellow bell pepper, 1/2 tablespoon sliced red bell pepper and 1 slitted green chili.
Cook for 1 minutes on low flame and then add 1/2 chopped tomato and salt to taste. Mix it well and then add about 2 cups of water. Mix in 1/2 teaspoon red chili powder and 1/4 teaspoon black pepper powder. Bring it on few boils over medium high flame.
Empty one packet of cheese flavored pasta and allow it to cook uncovered for a couple of minutes.
When the pasta is little dried up, add about 1 tablespoon finely chopped fresh coriander leaves and cover the pan.
Leave to cook for about 3 more minutes and your pasta is ready to serve.
Spread about 1/2 tablespoon of grated cheese over all on pasta, just before serving.
Notes
Tasty Indian Recipes