Potato Cheese Balls is a mouth-melting Indian Snack Dish, loved by kids and adults. Here tiny Potato Balls are made with Boiled Potatoes and stuffed with the filling of grated Processed Cheese. After deep frying, these potato cheese balls looks really yummy and cheese literally melts in your mouth.
This Snack Dish can be quickly made at home, if boiled potatoes are already available. There are many Recipes in my blog, which are made with boiled potatoes, such as Potato Toast, Potato Cutlets, Sabudana and Potato Tikki, Potato Salad, etc, but this one is my signature dish at home, and I got lot of applause from my family after making this snack dish, so I though to share with all of my readers.
I would like to share one more thing with all of you. While doing the preparation of these aloo cheese balls, I saw the cheese got stuffed in the center and realized that this is going to be so good. I was eagerly waiting for this and was excited to see the results as well, but once it got fried and the photshoot got over, I cut those balls in half, there was a little surprise waiting for me in the middle, and that was the gooey cheesy goodness. Now you can just imagine, that what my self and my hubby did then, we just took the plate, found a nice place to enjoy it and settled down and started munching it with Coriander Chutney and Tomato Ketchup.
Now let me tell you one more important thing about these cheesy balls. These are so versatile and comes handy whenever you need. If you are planning to do this, try to make it in double batches. You can have half of that instantly and half you can freeze for enjoying later. Take these balls and arrange it in a tray, put the tray in the freezer for 30 minutes until the balls get a little firm. Now transfer this to a zip lock bag and freeze it for later use. Now you have a handy snack whenever you have a cheesy cravings.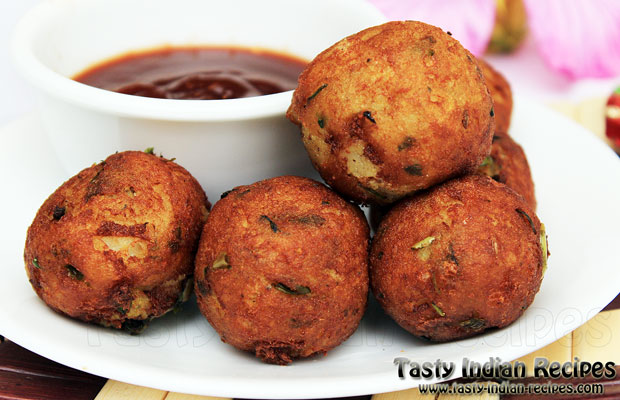 I can assure you that this will become the favorite snack for your Kids as well. I hope you will try this out and let me know how it came out.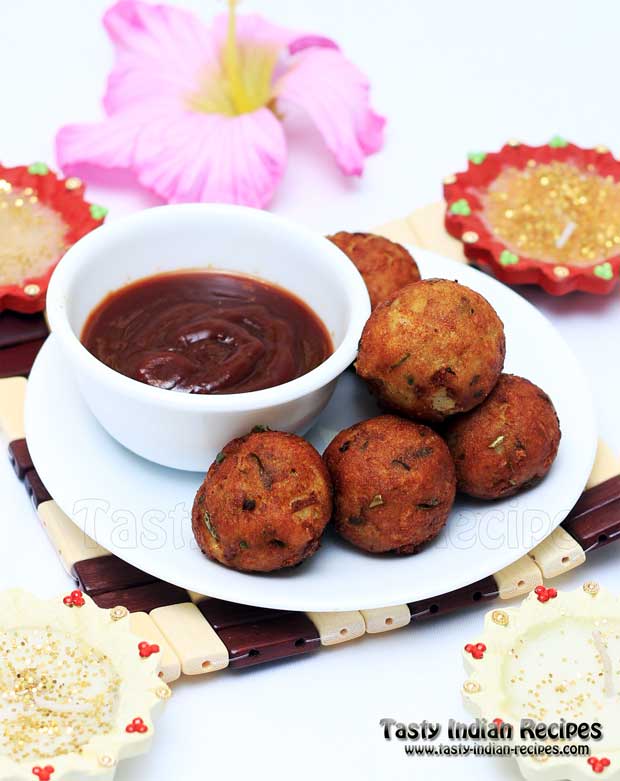 How to make Potato Cheese Balls Recipe:
Potato Cheese Balls Recipe
Potato Cheese Balls Recipe is the yummy treat for the Kids, made with Boiled Potatoes and Spices and stuffed with the filling of Grated Processed Cheese.
Ingredients
4 boiled potatoes
1 cup grated processed cheese
3 green chilies, finely chopped
1/2 teaspoon ginger, finely chopped or minced
4 cloves garlic, finely chopped
1/2 teaspoon red chili powder
1/2 teaspoon turmeric powder
2 teaspoon fresh coriander leaves, finely chopped
2 tablespoon bread crumbs
Oil for deep frying
Salt to taste
Instructions
Check out the ingredients for making Potato Cheese Balls Recipe.
Grate the Cheese and keep it ready aside.
Mash the boiled potatoes in a bowl.
Add 3 finely chopped green chilies, 1/2 teaspoon chopped ginger, 4 cloves of chopped garlic, 1/2 teaspoon red chili powder, 1/2 teaspoon turmeric powder, 2 teaspoon finely chopped fresh coriander leaves, 2 tablespoon bread crumbs and salt to taste.
Mix all the ingredients very well and keep aside. Now heat good amount of oil in a frying pan. Divide the potato mixture in small balls or portions. You can make about 12 balls from this quantity of mixture.
Take some oil in your palms, get one ball and smoothly round it, make a small hole in center and stuff good amount of grated cheese in it.
Now close the ball carefully from all the sides and in such way keep making all the balls and keep aside.
When the oil is heated properly, it should be reached about 170 degrees temperature. Now drop 2-3 balls in hot oil and keep the flame from high to medium. It is very important to cook these balls on medium flame, so that you can enjoy the melted cheese and properly cooked potato mixture while eating. Keep frying and flipping for 2-4 minutes, till the balls turns out golden brown in color.
Drain on oil absorbent paper napkins.
Notes
If you have garlic powder in your hand, then add 1 teaspoon of that and then do not add chopped garlic. Garlic powder has its own flavor in these balls. If you do not want to deep fry these potato cheese balls, then you can bake them in oven at 450 degrees F for 10-12 minutes.
Tasty Indian Recipes