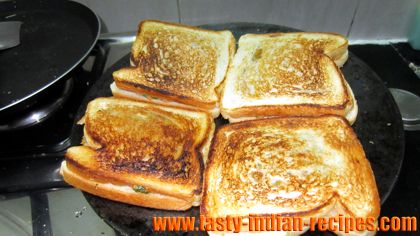 Potato Toast is the yummy bread slice toast, stuffed with the boiled potatoes, onion and tomatoes. This toast is an irresistible breakfast or snack dish, which is perfect to eat whenever you feel hungry. Try this delicious toast if some boiled potatoes are left over in your refrigerator.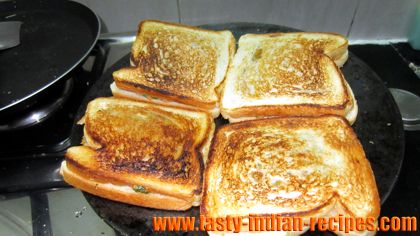 Preparation time: 20-25 minutes
Cooking time: 4-6 minutes
Servings: 2 persons (4 sandwiches)
Ingredients:
4 potatoes boiled and peeled
1/2 onion thinly chopped
1/2 tomato thinly chopped
8 bread slices
4 green chillies thinly chopped
1/2 tsp red chilli powder
1/2 tsp garam masala powder
Fresh coriander chopped
2 tbsp vegetable oil
Salt to taste
How to make Potato Toast:
Mash the potatoes in a bowl.
Add the spices, onion, tomato, green chillies and coriander.
Mix well, knead like a dough and keep aside.
Heat up a griddle on low flame, sprinkle little bit of oil.
Take 4 bread slices, spread this mixture evenly on each bread slice.
Cover with another bread slice.
Place on the hot griddle and leave to cook until turn crispy and brown in color.
Turn and cook from both the sides. Sprinkle little bit of oil if required.
Serve hot as it is or with the chutney of your choice.
Chef Tips:
For making this toast use less onion and tomato, they are just for little variation in the toast.
Add lots of cilantro, the taste will be really great.
You can apply little bit of butter in the bread slices before stuffing the potato mixture.