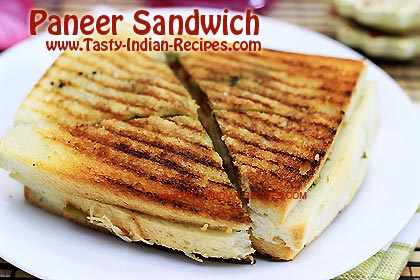 Paneer Sandwich is an extremely healthy snack recipe made with cottage cheese and spices. This sandwich is perfect to serve in morning or evening breakfast, also great for kids school lunchboxes. Paneer Sandwich is a tasty and nutritious snack which can be made in a quick time with a yummy taste.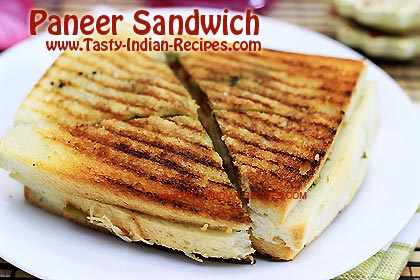 Preparation time: 5 minutes
Cooking time: 10 minutes
Servings: 4
Ingredients:
100 gms paneer (cottage cheese) crumbled or grated
8 fresh bread slices (brown or white)
1 small onion finely chopped
4 green chillies chopped
4 cloves garlic crushed
1 tomato cut into slices
1 small capsicum cut into rings
1/2 tsp red chilli powder
1/2 tsp cumin powder
1/4 tsp amchur powder
1 tbsp coriander chutney
1 tbsp butter
1 tsp oil
Fresh coriander leaves
Salt to taste
How to make Paneer Sandwich:
Heat a pan and add oil.
Add green chillies and crushed garlic. Saute well.
Add the chopped onion and salt. Stir and fry until onion become soft.
Add paneer, red chilli powder, cumin powder and amchur powder.
Mix well and cook for 3-4 minutes.
Mix lots of chopped coriander leaves and leave to cool.
Now lay 4 slices of bread on a cutting board.
Spread a little bit of butter and green chutney.
Spread the good amount of paneer mixture on each bread slice.
Arrange 2-3 slices of tomatoes and 2 rings of capsicum.
Cover with another butter and chutney slice.
Toast or grill the sandwich until turn crispy and little brown.
Chef Tips:
This sandwich looks and tastes very nice if made in a sandwich maker or toaster, which seals the edges of the sandwich and do not let to fall out the stuffing of paneer.
You may use cubes of paneer instead of crumbled or grated one.