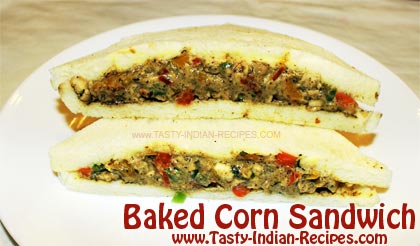 Baked Corn Sandwich is the healthy and creamy sandwich made with corns and unique type of white sauce. This sandwich is one of the most tastiest and healthiest breakfast dish which can be served on daily basis.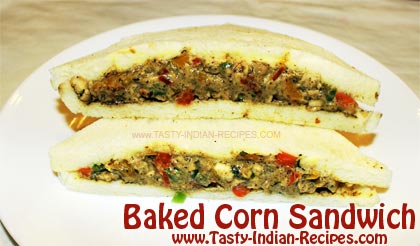 Prep time: 5
Cook time: 17
Total time: 22
Yield: 4 servings
Ingredients:
8 bread slices (brown or white)
1 small onion thinly chopped
1 cup sweet corns (boiled)
4 green chillies thinly chopped
4 cubes processed cheese
A pinch of black pepper powder
A pinch of sugar
1 small cup condensed milk
4 tbsp butter
1 tbsp all purpose flour (maida)
1/2 tbsp black peppercorns crushed
2 tbsp red chilli flakes
1 tbsp fresh cream
Salt to taste
How to make Baked Corn Sandwich:
Heat a pan and melt 1 tbsp of butter into it.
Add maida and milk.
Stir continuously to break the lumps.
Add salt and crushed pepper corns.
Mix well and stir until sauce thickens.
After few constant mixing add fresh cream.
Allow the sauce to thicken enough for making sandwich.
Turn off the gas and keep the sauce aside.
Melt 1 tbsp of butter in the same pan.
Add thinly chopped onion and green chillies.
Saute for few seconds and add salt, sugar, boiled corns, black pepper powder and red chilli flakes.
Mix and stir the mixture with 2-1/2 tbsp of the above sauce.
Place the bread slices on the chopping board and slightly cut the edges.
Apply butter on all the bread slices.
Spread spoonful of prepared corn mixture on 4 bread slices and cover with the other 4 buttery bread slices.
You can enjoy this sandwich as it is or.
Preheat the oven for 5 minutes and grease the baking tray with little bit of oil or butter.
Place the sandwiches on to the baking tray and spread the remaining sauce over the sandwiches.
Bake in the oven at 400F degrees for 15-17 minutes.
Serve immediately.
Chef Tips:
These sandwiches are extremely healthy and tasty, when made with brown bread.
Cut the sandwiches into triangles and grate some more cheese just before serving.
The corn mixture should not be too liquid and creamy, else the sandwiches will become wet and tasteless.
You can make these sandwiches on the griddle as well.