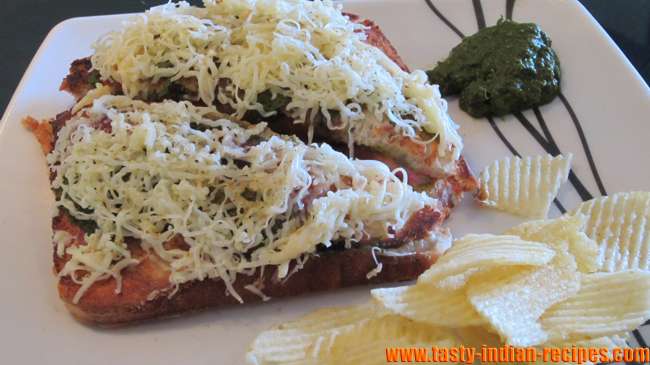 Double Cheese Toast Sandwich is simply made with lots of nutritional salad vegetables with generous amount of butter and two types of cheese. It is a delicious classic snack recipe, specially kids favorite. This unique vegetable sandwich consist two types of cheese, one is sliced and other one is grated. Learn to make easy and quick double cheese toast sandwich.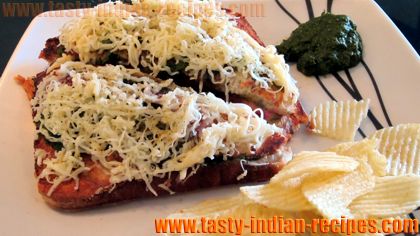 Preparation time: 15 minutes
Cooking time: 5 minutes
Servings: 2 sandwiches
Ingredients:
4 slices of Indian whole wheat bread
1/2 onion
1/2 tomato remove pulp
1/4 capsicum
1/4 beet root boiled and peeled
1/4 cucumber
1/2 potato boiled and peeled
2 cheese slices
1 tsp butter
2 cubes of grated cheese
1/4 tsp red chilli powder
1/8 tsp dry mango powder
1/2 tsp tomato ketchup
1 tsp coriander chutney
Salt to taste
Chaat masala powder
Fresh chopped cilantro
How to make Double Cheese Toast Sandwich:
Remove out the outer layer and cut the vegetables into thin slices.
Mash the boiled potato in a bowl and add salt, red chilli powder, dry mango powder and cilantro. Mix well and keep aside.
Trim all the edges of the bread slice with knife.
Take one slice, apply little bit of butter and spread little bit of chutney on top of the butter.
Spread 1/2 tsp of potato mixture and then place 3-4 pieces of sliced cucumber, 1 sliced piece of onion, 2 pieces of tomatoes.
Sprinkle some salt and chaat masala on top of the veggies.
Place a slice of cheese.
Arrange 3-4 pieces of beet root and 2 round pieces of capsicum.
Sprinkle some salt and chaat masala powder.
Apply butter and chutney on another slice of bread as well and cover the sandwich.
Keep in the sandwich maker or toaster and toast until slightly brown.
Cut the sandwich into 4-6 pieces, spread little bit of coriander chutney and tomato sauce or ketchup.
Grate a cube of cheese overall on the sandwich and sprinkle some chaat masala.
Serve with the green chutney and some chips.
Chef Tips:
You can add vegetables of your choice to make it more tasty.
Try to cut the vegetables very thin and round, so that they will not come out from the sandwich.