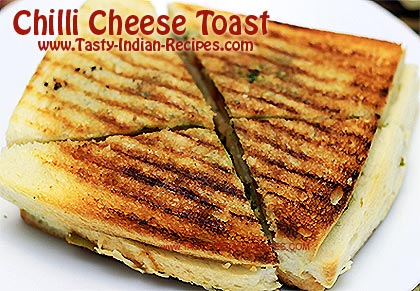 Chilli Cheese Toast is a mouth-watering snack dish made with vegetables, cheese and spices. This is a most wonderful and tastiest Indian snack dish that is great to serve in morning as well as in the evening.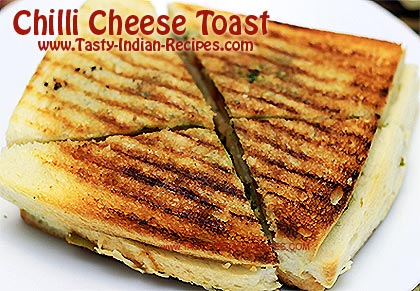 Preparation time: 5 minutes
Cooking time: 10 minutes
Servings: 2
Ingredients:
4 bread slices
4 slices of processed cheese
1 tsp butter
1 tsp green chutney
1 onion thinly chopped
1 green bell pepper thinly chopped
2 green chillies thinly chopped
1/4 tsp lemon juice
Fresh coriander chopped
1/4 tsp chaat masala powder
Salt to taste
How to make Cheese Chilli Toast:
In a big bowl combine the thinly chopped onion, bell pepper, green chillies, coriander, salt and chaat masala.
Stir the mixture and add lemon juice.
Mix and keep aside.
Toast the bread slices in an electric toast or in the oven until little browned.
Apply butter and green chutney on all toasted bread slices.
Put a slice of cheese on each bread slice, spread the mixture evenly and put one more slice of cheese on it.
Cover the toast with another bread slice.
Toast the Chilli cheese toast either in the toast maker or in the oven.
Serve hot with tomato ketchup and french fries.
Chef Tips:
You can make these delicious chilli cheese toasts on hot griddle as well.
You can add the vegetable of your choice.