Green Chutney Pakora Recipe is the quick Evening Snack Dish made with Bread Slices, Green Chutney and Besan (Bengal Gram Flour). This pakora can be eaten as a Breakfast or Evening Snack dish.
Pakora or Pakoda is a popular Indian snack of fried fritters. Pakoras can be made with different veggies and there are also many regional variations in the recipes, here gram flour or besan is the flour that always used in making pakoras, sometimes for more crispness, rice flour can also be added, but the main flour is gram flour.
This Pakora recipe is a quick chai time snack that we like on occasions. Since Pakode are deep fried, hence for health reasons, I don't make pakoras often, but once in a while we do indulge in pakoras on weekends or holidays, pakodas make for a quick munching snack.
Green Chutney Pakode is the simplest version of Indian Pakora, that we usually make at home with leftover Green Chutney and bread slices. You can use any type of Green Chutney, such as Coriander Chutney or Mint Chutney.
I used Some Chopped Onion in this Pakora Recipe, onion makes it more tasty and soft. Green Chutney Pakore are generally eaten as a Snack Dish, also can be packed for Kids School Tiffin. If you are looking for more Pakora Recipes, then do check Besan Ke Pakode, Urad Dal Pakode, Mirch Pakora, Egg Pakoda, Crispy Vegetable Pakoda, Paneer Pakode, Cheese Pakora and Aloo Pakoda.
Following type of Chutneys can be used for making this Pakora.
Green Chutney, Coriander Chutney, Mint Chutney and Mint Chutney with Tamarind.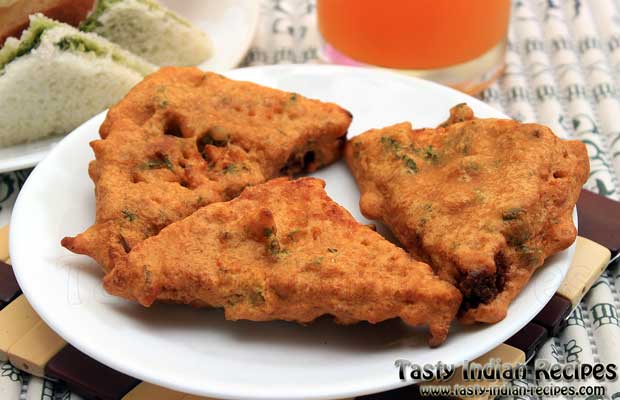 So let's start making our Homemade Green Chutney Pakora with Step by Step. You can serve them as a Tea Time Snack with Tamarind Chutney or Tomato Ketchup.
Green Chutney Pakora Recipe Step by Step
Take all the Bread Slices on the flat board.

Trim the edges from all the sides.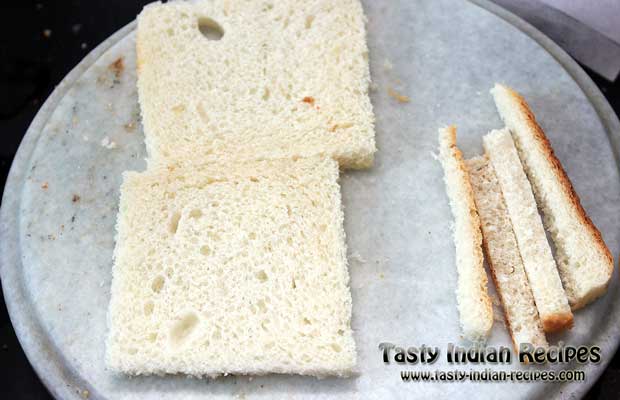 Now apply Green Chutney over all bread slices.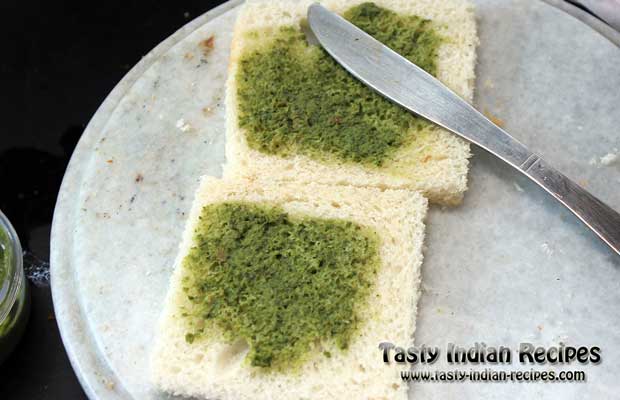 Place one Bread slice over another and cut either in squares or in triangles.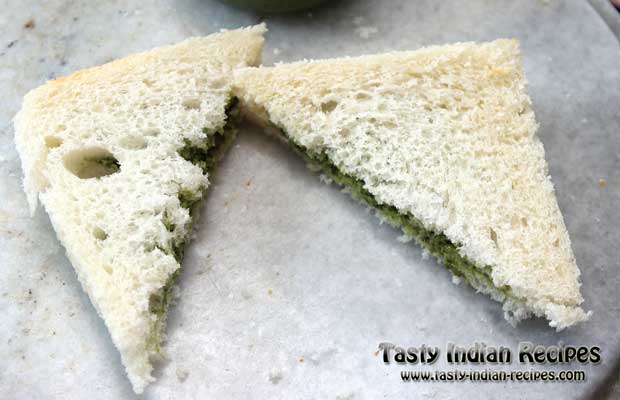 Make sure Chutney is properly spread between two pieces of bread slices.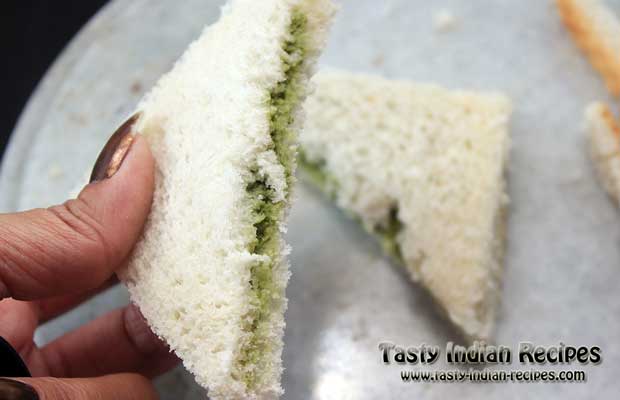 Take a bowl and mix in Besan, finely chopped Onion, finely chopped Green Chili, Baking Soda, Asafoetida, Red Chili Powder, chopped Coriander Leaves and Salt to taste. Mix it very well.
Dip each pakora in a prepared besan batter and coat it from both sides.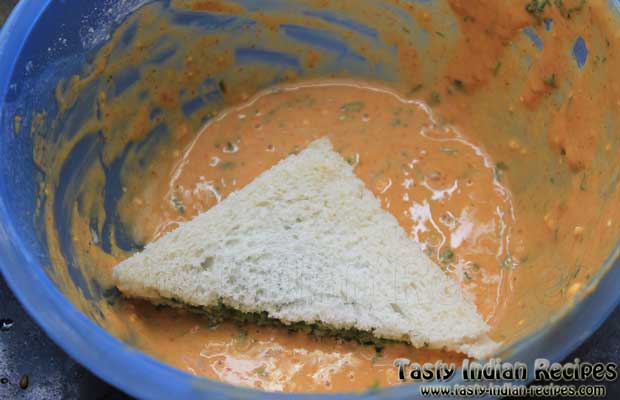 Carefully drop the pakora in hot oil and fry over moderate heat. Keep flipping to get equally colored and crisped pakora from both sides and drain on paper napkins to remove excess oil.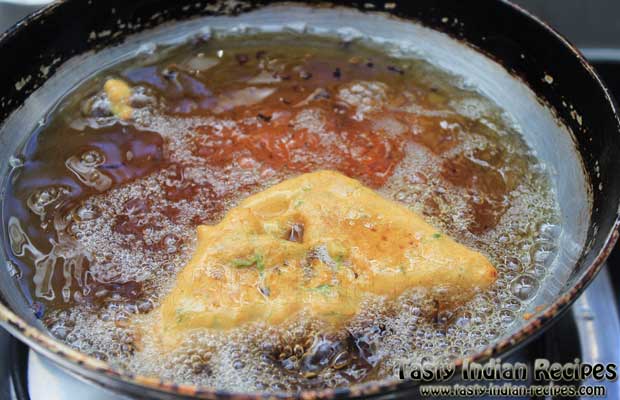 Serve these hot Pakoras with Green Chutney, Tomato Ketchup and a glass of orange juice.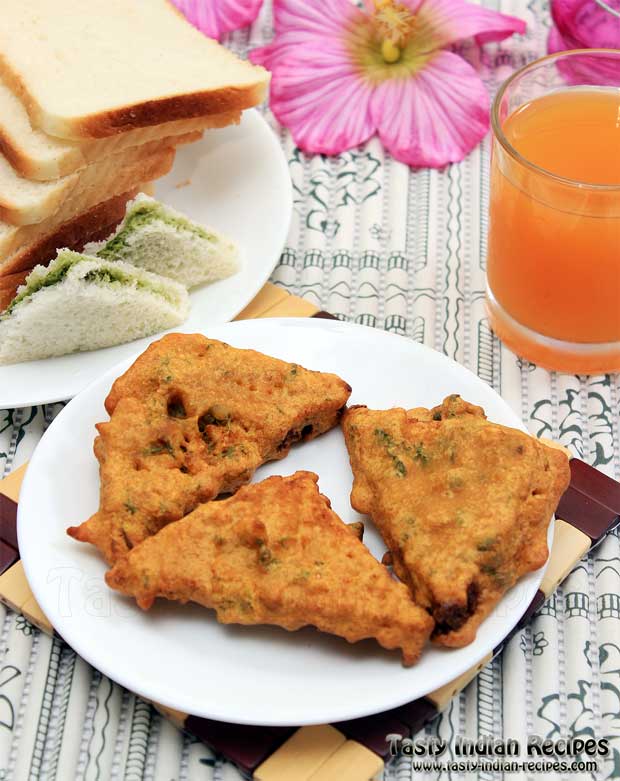 How to make Green Chutney Pakora Recipe:
Green Chutney Pakoda Recipe
Green Chutney Pakora Recipe is the quick Evening Snack Dish made with Bread Slices, Green Chutney and Besan. It can be served as a Breakfast Dish too.
Ingredients
6 Bread Slices
Green Chutney
1 cup besan (bengal gram flour)
1 finely chopped small onioin
1 finely chopped green chili
1/4 tsp baking soda
1/4 tsp asafoetida (hing)
1/2 tsp red chili powder
Coriander Leaves, finely chopped
Salt to taste
Instructions
Take a big bowl and mix in 1 cup besan, 1 finely chopped small Onion, 1 finely chopped green chili, 1/4 tsp baking soda, 1/4 tsp asafoetida,1/2 tsp red chili powder, some finely chopped fresh coriander leaves and salt to taste. Mix it very well and keep aside.
Heat good amount of oil in a frying pan on high heat and slightly trim the edges of 6 bread slices. Apply some Green Chutney on all bread slices and combine two bread slices, so that you will be able to make 3 pakore.
Now carefully dip one pakora in a prepared besan batter, coat very well from all the sides and put in moderately hot oil. Keep frying from both sides on medium high flame for about 2-3 minutes, till pakora turns little brown and crispy. Remove the fried pakoras with a slotted spoon, drain as much oil as possible while removing the pakoras.
Drain on oil absorbent paper napkin to remove excess oil. Make remaining pakore is same way and serve with tomato ketchup.
Notes
Adjust the spices as per your taste buds. You can skip asafoetida for a gluten free version.
Tasty Indian Recipes