Mango Kulfi is the Special, Seasonal Kulfi Recipe made with Ripe Mangoes, Milk, Dry Fruits and Sugar. In India, mango season is in full swing and we all are enjoying variety of mangoes here.
After trying many recipes with mangoes, such as Mango Trifle, Mango Jelly, Mango Mousse and Mango Salsa, I tried to make this mango kulfi and it turned out super creamy and awesome. The aluminum kulfi moulds are easily available in India, so I just got them and started making it.
This Mango kulfi or Mango Ice Cream does not require any kulfi / ice cream maker and not even eggs are used here, it is a pure vegetarian kufli and can be easily made at home with easily available ingredients.
It's a summer vacation and nothing else can be enjoyable for the kids other than this delicious, homemade and refreshing kulfi. I made this kulfi with all fresh ingredients and fresh mango pulp. Mango Pulp can be quickly made with fresh and seasonal ripe mangoes. If you want, you can use ready made mango pulp as well, or the best way is to use fresh ripe mangoes. Try out this recipe yourself and enjoy this mango season with family and friends.
How to make Mango Kulfi Recipe:
Mango Kulfi is the Special and Kid's favorite Seasonal Kulfi Recipe made with Ripe Mangoes, Milk, Dry Fruits and Sugar. It is a pure Vegetarian Kufli and can be easily made at home with easily available ingredients.
Ingredients
2 cups milk
2 medium sized alphonso mangoes
2 tablespoon sugar
1 tablespoon cornflour/ all-purpose flour
A pinch of cardamom powder
A pinch of Saffron strands
1 tablespoon cashew nuts, finely chopped
1 tablespoon almonds, finely chopped
Few Kulfi Moulds
Instructions
Chop mangoes in small pieces and put in a blender.
Make a smooth puree out of it.
Mix the cashew nuts and almonds in mortar and pestle.
Pulse the dry nuts finely with mortar and pestle or you can chop it with knife and keep aside.
Rinse kulfi moulds in water, pat dry and keep aside.
Boil the milk over medium high flame for 5-6 minutes, till milk little thickens.
Add 2 tablespoon sugar and stir continuously.
Keep stirring for few minutes, till milk thickens.
Now stir in cornflour and mix very well without any lumps.
Add saffron and finely chopped cashew nuts and almonds. Keep it mixing on low flame for 3-4 minutes, so that kulfi mixture does not get burnt. Now the whole mixture of milk, sugar, cornflour, saffron and dry fruits turns out in thick rabdi.
Add mango pulp at this stage and keep mixing.
Mix the mango pulp / puree very well in rabdi.
Cook it for 2 more minutes and switch off the flame. Allow the rabdi to cool completely.
When the rabdi cool down, pour into the mixer and pulse it for about 30 seconds. Fold the mixture gently so that the mango pulp and rabdi get mixed together. Add this to the kulfi moulds.
Keep it in the freezer for 5-6 hours or for overnight.
After taking it out from the mould run it in cold water.
Take out the kulfi from inside.
Enjoy immediately.
Notes
If you do not have kulfi moulds, then set the kulfi in a plastic container. Alphono mangoes are best for making these kulfis. You can add chopped pistachios as well.
Tasty Indian Recipes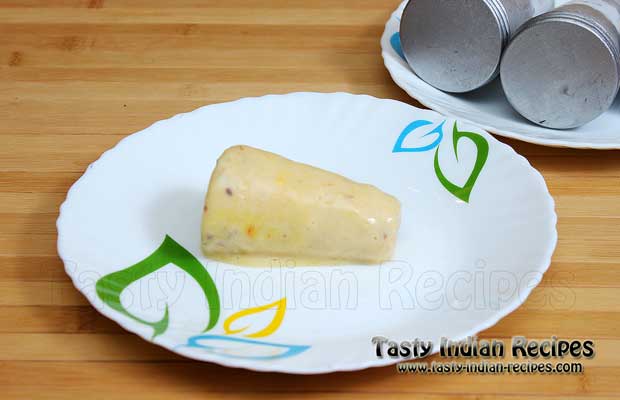 Chef Tips:
Do not add the flour more than the quantity mentioned, else kulfi will not come into a shape.
You can use condensed milk for making these kulfis at home, in such case, do not add sugar. Condensed milk already contains sweetness.