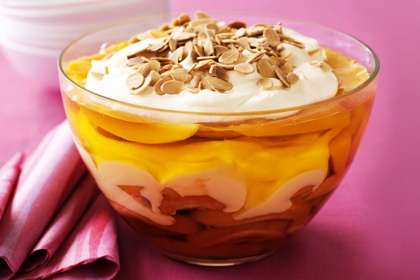 Mango Trifle is made from sponge cake, fresh mango and vanilla.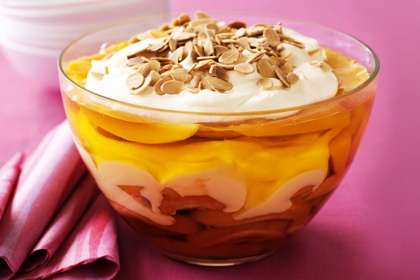 Prep time:
Cook time:
Total time:
Ingredients:
1 kg Sponge Cake
1 cup mango (peeled and cubed)
1 cup fresh cream
2 tbsp vanilla essence
Few strawberries for garnishing
How to make Mango Trifle:
Cut sponge cake in desired size and slices and assemble in a dish.
Squeeze out the juice from mango pieces and stir in 6 tbsp of water and vanilla essence.
Sprinkle the prepared juice over the cake and keep aside for 15-20 minutes.
Cover the cake with mango pieces and pour the cream over the top.
Decorate with some fresh strawberries and cherries and refrigerate for few hours.
Serve chilled.