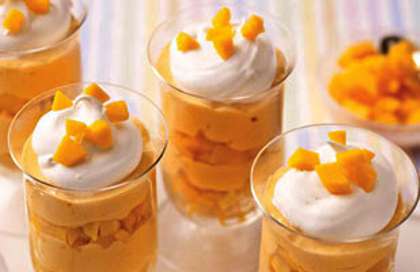 I have made this yummy Mango Cream Recipe simply to impress my guests. A dessert is full of rich and creamy flavored gelatin, fresh cream and mango puree.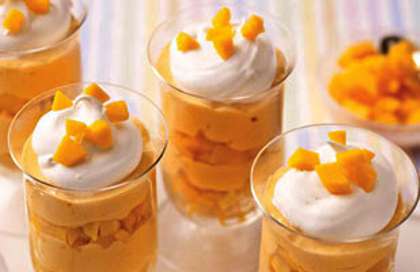 Prep time:
Cook time:
Total time:
Yield: 2 servings
Ingredients:
4 cups mango puree
3 tbsp unflavored gelatin
1 cup sugar
2 tbsp fresh lime juice
1 cup heavy cream
How to make Mango Cream:
Sprinkle the gelatin in 1/3 cup of cold water.
Stir on low flame to dissolve the gelatin completely.
Mix the mango puree, sugar, lime juice and gelatin.
Whip the cream until stiff and then fold lightly and completely into the mango mixture.
Pour into a mold, rinsed out with cold water.
Refrigerate for few hours until sets.
Take out from the mold.
Serve either as it is or decorated with some slices of mango.