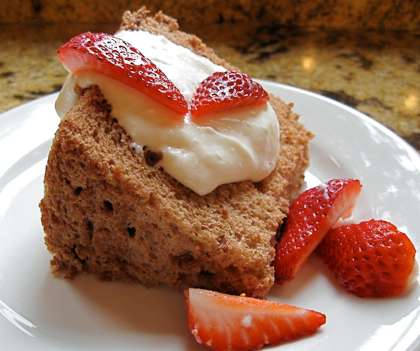 Chocolate Angel Cake is the highly moist chocolate dessert, got the true taste of granulated sugar, cocoa powder and cream of tartar.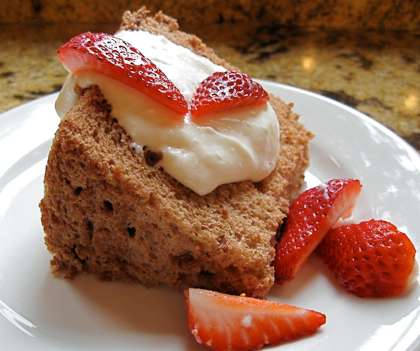 Preparation time: 10-12 minutes
Baking time: 45 minutes
Servings: 12-15 yields
Ingredients:
1-1/2 cups all-purpose flour (maida)
2-1/2 cups granulated sugar
6 eggs
2 tsp cream of tartar
1 cup hot water
1/2 cup cocoa powder
1 tbsp butter for greasing
How to make chocolate angel cake:
Mix the cocoa powder very well in hot water and set aside.
Preheat the oven at 400 F and grease the cake bake pan with some melted butter.
Sift the flour and add sugar and salt.
Beat the eggs in separate bowl and add cream of tartar.
Beat until the mixture forms peak.
Gently add half the sifted flour in egg mixture and mix thoroughly.
Then add remaining flour by continuous mixing.
Stir in the cocoa powder mixture and mix lightly.
Pour the prepared cake mix in a greased baking pan and bake in the oven for 45 minutes.
When the inserted tooth pick comes out clean, that means cake is ready.
Allow the cake to cool at a wire rack.
Then with the help of a knife invert it on a plate.
Top the cake with some fresh berries and vanilla ice cream.