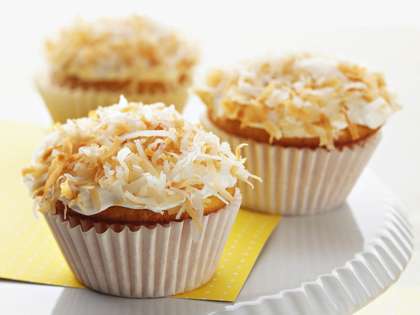 Coconut Cupcakes are the mouth-watering, delicious and cute cupcakes made with fresh coconut, vanilla, sugar and butter. These cupcakes are perfect to celebrate kids days.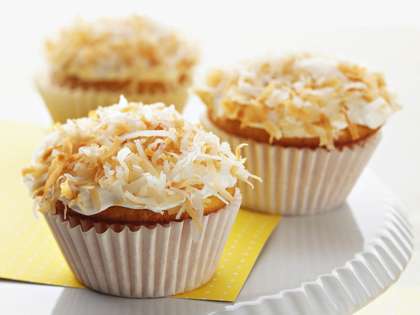 Preparation time: 10-12 minutes
Baking time: 20 minutes
Servings: 25 cupcakes
Ingredients:
4 cups all-purpose flour (maida)
2 tbsp baking powder
1 tsp Sodium Bicarbonate (Khaane Wala Soda)
4 big eggs
2 cups sugar
2 cups unsalted butter
3 tsp vanilla essence
2 tsp almond essence
3-1/4 cups Butter Milk (Mattha / Chhaach)
2 large cups grated Coconut (Khopra/Narial)
1/2 tsp salt
For Icing you will require:
1 cup unsalted butter
1 cup cream cheese
1-1/2 tsp almond essence
1 tsp vanilla essence
2 cup sifted icing sugar
How to make coconut cupcakes:
Sift the flour, soda, salt and baking powder in a big bowl and keep aside.
Preheat the oven at 350 degrees and grease the muffin tins with some butter
Beat the eggs in a separate bowl and keep aside.
Now beat the sugar and butter until light and fluffy.
Gradually mix the beaten eggs and essences.
Slowly add the flour alternatively with the buttermilk.
Mix half of the grated coconut.
Fill the muffin cups with equal portion of the prepared cake mix.
Bake them for about 20 minutes or till they are golden in color.
For icing beat the cream cheese, butter, sugar and the essence till smooth and creamy.
Place a layer of the prepared icing on the baked cupcakes and sprinkle some coconut on them.