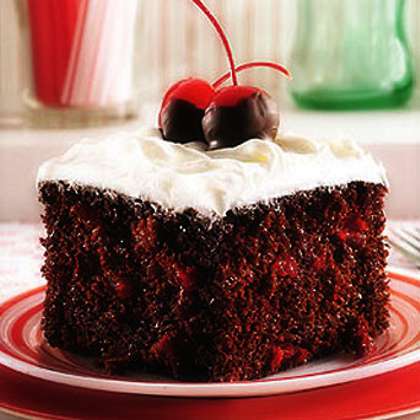 Chocolate Cherry Cake is the beautiful cake dish, made with ready made Chocolate Mix and decorated with lots of fresh cherry.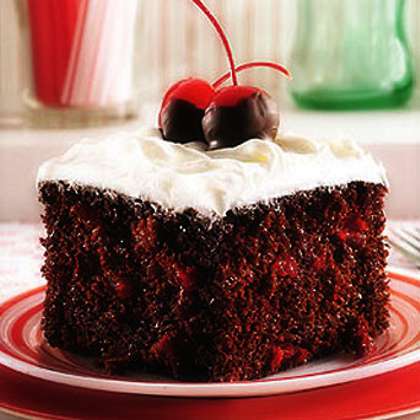 Preparation time: 15 minutes
Baking time: 30-35 minutes
Servings: 10-12 yields
Ingredients:
1 pack of Chocolate Cake Mix
2 cups Cherry Pie Mix
4 Eggs White
For Frosting the cake you will require :
1/2 tsp Cream of Tartar
3 Eggs White
1 tsp Vanilla Essence
1-3/4 cups Sugar
1/2 cup water
How to make Chocolate Cherry Cake:
Take a big bowl and mix the chocolate cake mix, cherry pie filling and egg whites very well.
Grease 9″ X 12″  baking pan and make a layer of flour on it.
Pour the prepared batter into the pan.
Preheat the oven at 400 F degrees for 5 minutes and then bake the cake for 30 – 35 minutes or until the toothpick comes out clean.
Take out the small portion of prepared cake and cool down at room temperature.
Combine all the frosting ingredients and pour in a double boiler.
Beat the mixture very well for 1-2 minutes.
Place the boiler on boiling water and again beat for 7 minutes.
Remove from heat and beat for 2 minutes on high speed.
Frost the cool cake with the prepared mixture.
Finally garnish the cake with some chopped cherries.