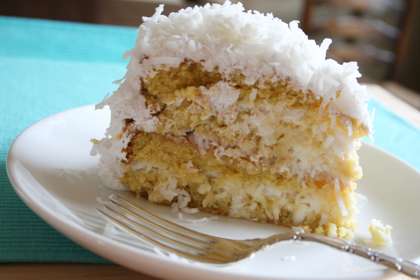 Coconut Cake is a simple and elegant cake dish, contains a good amount of butter and turns into a moist cake dish, when topped with lots of desiccated coconut.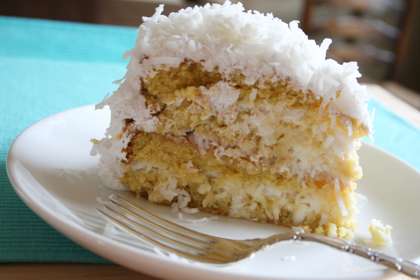 Preparation time: 15 minutes
Baking time: Appx. one hour
Serves: 12-15 yields
Ingredients:
3 cups all-purpose flour (maida)
2 tsp baking powder
4 tbsp condensed milk
3 eggs
1-1/2 cups desiccated coconut
1-1/4 cup butter
1 cup castor sugar
A pinch of salt
How to make Coconut Cake:
Beat the eggs in a bowl.
Cream the butter and sugar, and gradually add the beaten egg mixture.
Sift the flour, baking powder and salt in a big bowl.
Add the egg and butter mixture slowly in the flour.
Also add coconut and remaining ingredients.
Prepare a cake bake pan by greasing with butter.
Pour the prepared cake batter evenly on it  and bake in a moderate oven for about 1 hour.
Check by inserting a knife or a toothpick, if it comes out clean, that means your yummy cake is ready to serve.