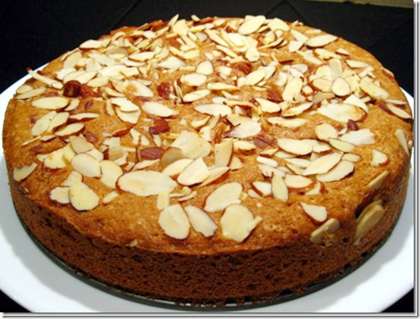 Almond Cake is a moist and tempting cake delight that contains lots of richness of almonds, vanilla, sugar and butter. A perfect Holiday Cake is here in easy and simple steps.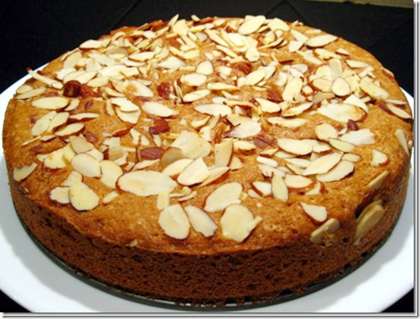 Preparation time: 20 minutes
Baking time: about an hour
Servings: 12-15 yields
Ingredients:
For making pastry cake you will require:
2 cups all-purpose flour (maida)
1 cup unsalted butter
3 big eggs
1 cup sugar
2 tsp vanilla extract
3/4 tsp salt
For the Filling of cake you will require:
1/2 cup corn starch
1 cup sugar
2 eggs
1/2 cup butter
1 tsp baking powder
1 cup ground almonds
2 cups chopped almonds
1/2 tsp salt
How to make Almond Cake:
Combine all the ingredients of making the pastry cake very well either in a big bowl or in a food processor.
Mix very well to make a soft dough.
Put the prepared mixture in the refrigerator for 30-40 minutes.
Take out from the fridge and roll the dough into 10-11 inch of a pie.
Prick the base and chill for 10 minutes.
Preheat the oven at 400 degrees F.
On the other side, let's proceed for making the filling of the cake.
In a non-stick pan, melt half of the butter and add the chopped almonds and saute them over medium flame until  lightly brown.
Turn off the fire and allow to cool.
Heat another pan and melt the remaining butter.
Add the grounded almonds and sugar.
Mix very well and now add eggs one at a time, beating nicely, after each addition till the mixture is light and fluffy.
In a separate bowl sift the corn starch with the baking powder and salt and then fold it into the almonds mixture.
Pour the prepared mixture into the earlier prepared base and bake for 15 minutes in preheated oven.
Spread generous amount of chopped almonds over the top and return the pan to the oven.
Bake continue for 10 more minutes until the pastry is brown.