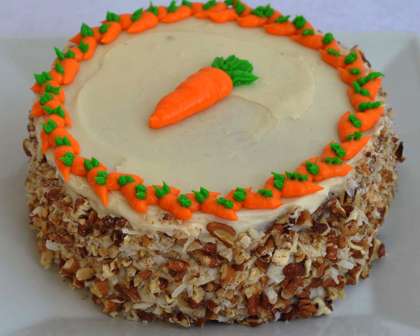 Carrot Cake is a delicious cake recipe, that can be easily made at home. You just need to arrange some fresh carrots, coconut and chopped nuts of your choice.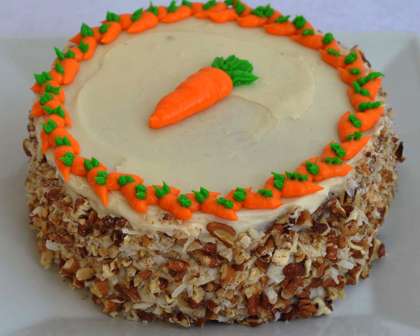 Preparation time: 10 minutes
Baking time: 30 minutes
Servings: 10-12
Ingredients:
4 cups fresh carrots (peeled and grated)
1-1/2 cups all -purpose flour
2 tsp baking powder
1 tsp baking soda
4 eggs
1-1/2 cup desiccated coconut
1 cup butter
2 -1/2 tsp mixed spices (cinnamon, nutmeg, ginger)
1 -1/2 cups brown sugar
1 cup chopped nuts (cashew nuts, almonds and walnuts)
1/2 cup golden raisins
3 tsp of orange essence / juice
A pinch of salt
How to make Carrot Cake:
Preheat the oven at 350 degrees F.
Sift the flour, baking soda, baking powder and salt in a big bowl.
Melt the butter in a pan and add grated carrots, chopped nuts, coconut, raisins and orange juice.
Stir nicely and pour it over the flour mixture.
Prepare a loaf tin by greasing the base and the sides.
Pour the prepared cake mixture into the tin and bake the cake for about 30 minutes in preheated oven.
Insert a toothpick in the center of the cake and if it comes out clean, that means your cake is ready.
Remove form the oven and allow the cake to cool at a wire rack.
Cut into desired shape and slices to serve yummy.