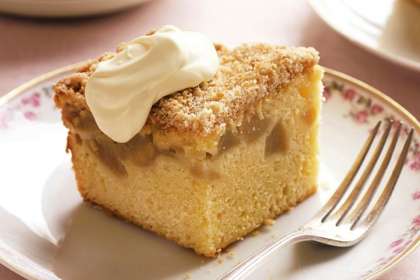 Apple Cake is a tempting cake dish, made with apples, chopped nuts, vanilla and cinnamon. It is highly rated cake and contains a unique glaze of nutmeg, milk and brown sugar.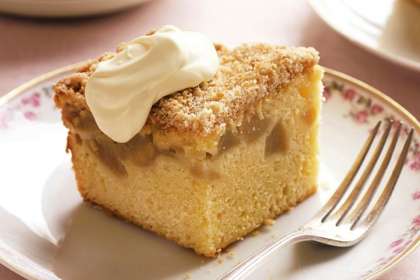 Preparation time: 15 minutes
Baking time: 1 hour
Servings: 12-15
Ingredients:
4 cups all-purpose flour (maida)
3 big apples (finely chopped)
2 tsp baking powder
1 tsp baking soda
2-1/8 cup sugar
1 tsp salt
1-1/2 tsp nutmeg
1 tsp cinnamon powder
4 eggs
1-1/2 tsp vanilla extract
2 tsp cloves
1-1/2 cup mixed nuts chopped
1 -1/2 cup oil
For preparation of Glaze you will require:
1 cup brown sugar
3 tbsp thick condensed milk
1 tsp vanilla essence
1 cup unsalted butter
A pinch of salt
How to make Apple Cake:
Beat the eggs in a bowl and mix the vanilla extract and oil in it.
Sift the flour, baking powder, baking soda and salt in a big bowl.
Add dry ingredients along with the egg mixture and mix very well.
Add chopped apples and nuts.
Preheat the oven at 350 F degrees and grease the cake bake pan with good amount of butter.
Pour the prepared cake mixture in a baking pan and bake for 1 hour.
In the meantime, mix all the ingredients of glaze and bring the mixture on 2-3 boils for 2 minutes.
When the cake is fully done, remove it from the oven and pour the glaze over it.
Apple cake is ready to serve.