Schezwan Dosa Recipe is an Indo Chinese twist to the regular South Indian dosa. Schezwan Dosa is simply filled with Stir-Fried Vegetables and Schezwan Sauce. You can add noodles in it, but today I have made a simple Schezwan Dosa with minimal ingredients.
Now-a-days we get different varieties of dosas in hotels and this schezwan dosa recipe is one among them. It is easy to prepare and contains an appetite filling of healthy vegetables. It is a favorite Snack among Kids as well.
I like to do variations with South Indian Food and these Chinese versions of dosas are simply superb. These Dosas are very famous Snacks on the streets of Mumbai and a hot favorite amongst teenagers. This combo of Schezuan Sauce and veggies adds a new, young feel to the robust dosa!
There is lot of variety of Dosa in my blog, such as Masala Dosa, Spring Dosa, Cheese Dosa, Mysore Masala Dosa, Paneer Chilli Dosa and many more, and among all of them, my favorite pick would be always Schezwan Dosa Recipe, because when I made it at home, I was really impressed from me, this dosa came out amazing.
Thanks to Mumbai, which never disappoints me when it comes to a fusion food. I am a big fan of South Indian Food, and specially Dosa and I thoroughly enjoy the variations of Dosa on the streets of Mumbai. I would try to post few of the other varieties of dosa in my blog in near future.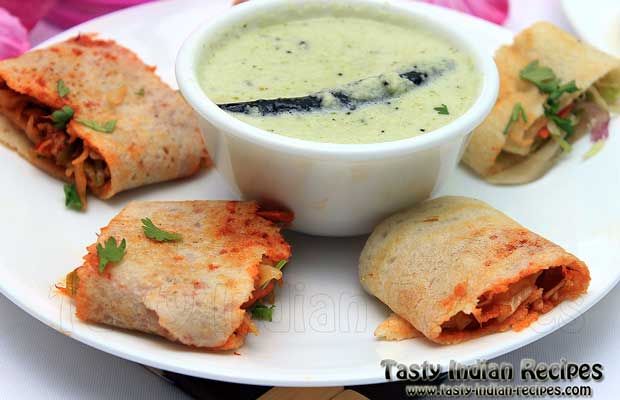 Schezwan Dosa Recipe is the most favorite among youngsters, a plain Schezwan Dosa where a lip smacking Schezwan Sauce is spread on the dosa and is topped with thinly shredded vegetables and is folded and cut into thin strips has been always treated as a comfort snack dish.
The whole process of dosa making by the street vendors is really fun to watch here in Mumbai. For those who are eating for the first time, this might sound weird the combination of Chinese filling with South Indian chutney and Sambar, but you really need to taste it to believe it, it pairs up beautifully.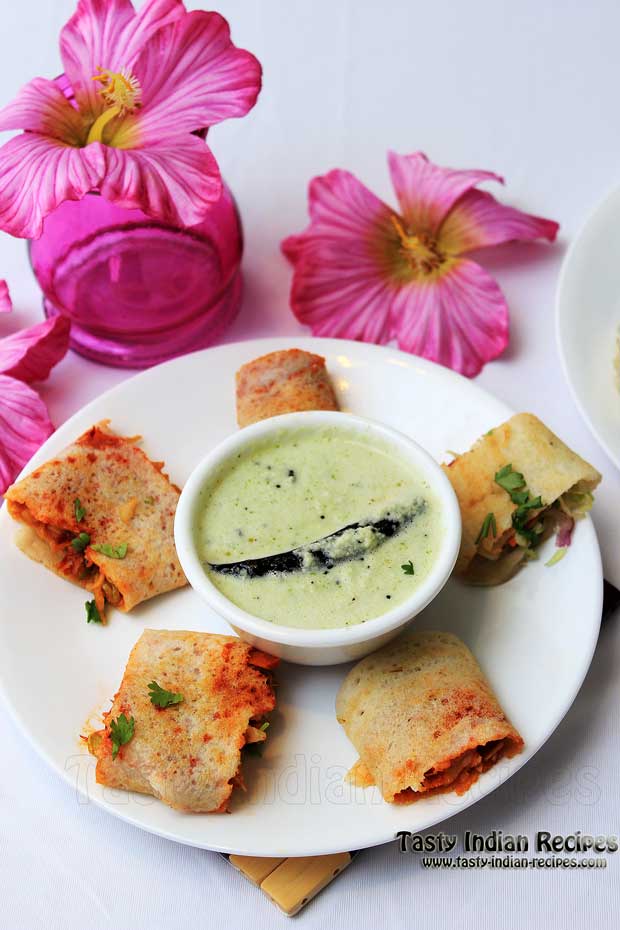 The key factor to the taste of this dosa is the Schezwan sauce. You can use homemade Schezwan Sauce or now a days Ching's Secret Schezwan Chutney is also available in market, that is also too good. This Schezwan dosa is a mix of sweet, spicy and tangy tastes with crisp vegetables and it would definitely become favorite for your Kids. If you are a dosa lover, then I would vouch for this Schezwan Dosa recipe and I request you to try it once. I am sure you would come back again to say thanks to me, such is the magic of this Schezwan Dosa Recipe.
Today we will learn how to make schezwan dosa recipe, following our easy recipe. Now without much delay let's get into the details of the recipe.
How to make Schezwan Dosa Recipe:
Schezwan Dosa Recipe is an Indo Chinese twist to the regular South Indian dosa. This Dosa is simply filled with Stir-Fried Vegetables and Schezwan Sauce.
Ingredients
2 cup Dosa Batter
1/2 cup Schezwan Sauce
1 cup cabbage, shredded
1 small onion, sliced
1/2 cup carrot, shredded
1 capsicum, sliced
2 green chilies, finely chopped
1/2 teaspoon ginger, finely chopped
1/2 teaspoon garlic, finely chopped
1/2 tsp Soya sauce (optional)
1/2 teaspoon oil for cooking the filling of dosa
Salt to taste
Oil or butter to roast dosa
Instructions
Take about 2 cups of dosa batter, adjust with some salt and mix well. Make it lump free and keep it aside.
Heat 1/2 teaspoon oil in a pan/kadai and add 1/2 teaspoon chopped ginger and 1/2 teaspoon chopped garlic. Saute for a few second and then quickly add 1 cup shredded cabbage, 1/2 cup shredded carrot, 2 fine chopped green chilies, 1 small sliced onion and 1 sliced capsicum. Toss the vegetables with some salt on medium high flame, just like we do for making other Indo-Chinese Recipes.
Add 1/4 teaspoon soy sauce and 2 tablespoon of Schezwan Sauce. Mix well and leave to cook for 2-3 minutes on low flame. The crunchiness of vegetables is to be maintained and hence do not over cook the vegetables.
Now turn off the gas and heat a griddle or tawa for making dosa. Clean the tawa with water and damp it with clean kitchen napkin. Pour about one ladle (Big Spoon) of dosa batter in the middle of tawa and spread in a circular motion to form a thin sized dosa. Cook it over high heat for a couple of minutes, just like we do for making other Dosa Recipes.
Drizzle few drops of oil on all over the edges and keep cooking.
Now when dosa is almost ready, slow down the flame and sprinkle about 1/4 teaspoon of oil or butter over it, spread 1 teaspoon of schezwan sauce in the center.
Spread about 1 tablespoon of prepared Schezwan Veggie mixture on it and let it roast for one more minute, till it turns golden brown and crispy. Do not over roast it, as it will be difficult to fold then.
Remove it from the tawa and cut into desired pieces.
Serve it either as it is or you can serve this dosa with Coconut Chutney and Sambar.
Make rest of dosas in similar way and serve them immediately.
Notes
Cut the rolled dosa and serve hot immediately. You do not need any side dish for this dosa.
Tasty Indian Recipes
Chef Tips:
You can use homemade or ready available batter of dosa for making this dosa at home, but make sure to spread it very thin.
You can add boiled noodles in schezwan stuffing. Kids will love it.
Spring onions can be also added in the stuffing. It gives more flavor to the dosa.
If you want your dosa to be super spicy, then you can add a tsp of Red Chili Sauce while making the veg schezwan filling.
I used my non stick tawa to prepare this dosa, because my usual roti making tawa would make it very crispy, and then it would have become difficult for me to fold it or cut it, so if you have dosa making tawa or a nice non-stick tawa/pan, then please go ahead with that.