Masala Dosa is the typical South Indian Snack Dish made with the batter of rice and dal. Here dosa is stuffed with the famous Masala Dosa Bhaji, that is made by boiling and mashing the potatoes. South Indian Masala Dosa is generally served with sambar and coconut chutney.
Masala Dosa is a popular Indian treat in all over the world and made in several different ways. It is the most common breakfast, served in almost every Indian household. Now a days, because of easily available ready batter in market, it's become very easy to make it at home. Dosa Bhaji is just a task of few minutes, if boiled potatoes are available. Mom's can pack it up in their children's school tiffin even early in morning.
Preparation time: 10 minutes
Cooking time: 20 minutes
Servings: 6
Ingredients required for making Masala Dosa Recipe:
For making dosa batter you need: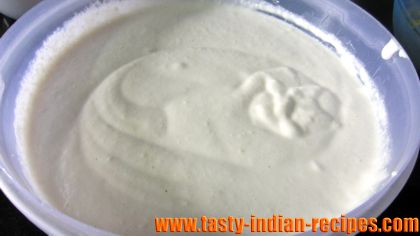 1 cup rice
1/4 cup urad dal (Split Black Lentils)
A pinch of soda bicarbonate
Salt to taste
For making Dosa Aloo Bhaji you need: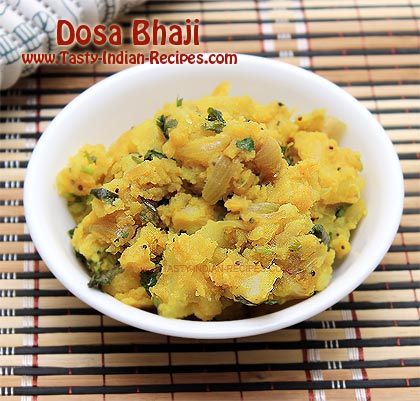 2 medium size potatoes boiled and peeled
1 onion sliced
1 tomato chopped (optional)
4 green chillies chopped
4 cloves garlic chopped
1/2 tsp turmeric powder
1/2 tsp mustard seeds
4-5 curry leaves
Fresh coriander leaves chopped
2 tsp oil
Salt to taste
How to make Masala Dosa Recipe:
Soak the rice and dal separately for overnight.
Next morning grind them to make a smooth batter and then mix together in a bowl.
Add salt as per the taste, also add soda.
Mix well and keep aside.
Heat the oil in a pan and add curry leaves and mustard seeds.
When the seeds stop crackling then green chillies and chopped garlic.
Saute for a few seconds and add slices of onion.
Immediately add tomato, you are not suppose to cook onion until golden brown, it should be little transparent only.
Now mash the boiled potatoes and add salt.
Mix well and flavor dosa bhaji with remaining spices and keep aside.
Now heat a dosa tava, preferably non-stick.
Apply few drops of vegetable oil.
Spread a spoonful of dosa batter on heating tawa.
Apply little bit of oil all over and simmer the gas.
Leave to cook on a very low flame. Dosa will automatically starts to come up.
After 2 minutes, you will observe that dosa is turning into brown and crispy.
Place the bhaji in the center of dosa and spread little bit. Flip and serve.
Crispy and tasty dosa is ready to serve with sambar and coconut chutney.

Masala Dosa
Chef Tips:
At the time of grinding the rice and dal, carefully add the water, the consistency of batter should be thick.
You can adjust the water at the time of making dosa.
You can refrigerate this batter for 3 days.
Make the thin dosa and not thick, it should be cooked properly from inside as well.
Tomato in dosa bhaji is optional ingredient.
You can apply little bit of butter before spreading red chilli chutney.
It would be good if you are using non-stick tawa for making masala dosa. The benefit is that you are not suppose to wash it with water again and again, also the consumption of oil will be less at the time of making dosa.