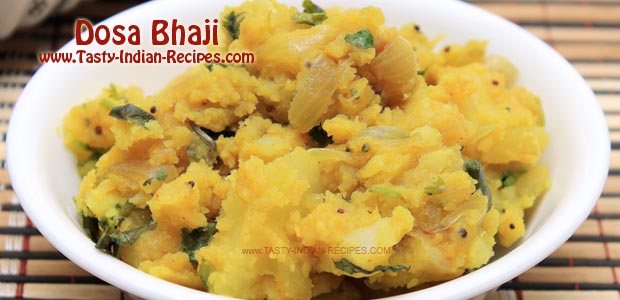 Dosa Bhaji is simply made with boiled and mashed potatoes, tempered with seeds and flavored with fresh Indian spices. This is the only filling which is to be used for making delicious and crispy masala dosa. Dosa Bhaji is also called as Dosa Sabzi or Masala Dosa Bhaji and brings a very good taste in simple dosa, when served with sambar and coconut chutney.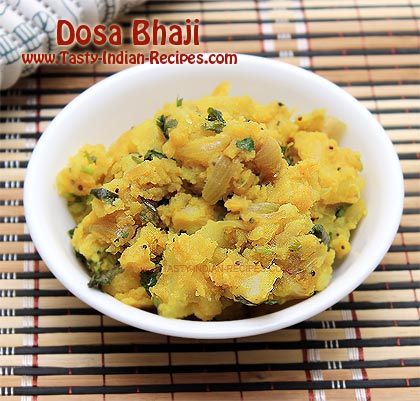 Preparation time: 2 minutes
Cooking time: 5 minutes
Servings: 4 persons
Ingredients required for making Dosa Bhaji (Filling) Recipe:
2 medium size potatoes boiled and peeled
1 onion sliced
1 tomato chopped (optional)
4 green chillies chopped / slited
4 cloves garlic chopped / paste
1 inch ginger paste
1/2 tsp turmeric powder
1/2 tsp mustard seeds
4-5 curry leaves
Fresh coriander leaves chopped
2 tsp oil
Salt to taste
How to make Dosa Bhaji Recipe:
Mash the boiled potatoes and finely slice the onion. Heat the oil in a pan and add curry leaves and mustard seeds.

When the seeds stop crackling then green chillies and chopped garlic. Saute for few seconds and add slices of onion. Cook until only translucent and add tomato. I haven't added tomato. Cook for more few seconds. Now mash the boiled potatoes and add salt. Mix well and leave to cook on low flame.

Add turmeric powder and lots of coriander leaves.
Mix well and use for filling or stuffing in masala dosa.
Further Reading:
Chef Tips:
If you do not want to add tomatoes, then it's okay, still the taste will be good.
You may temper dosa bhaji with the cumin seeds.